[« Sad but significant days in entertainment history] [Old Man Al (at 3 Old Men) and I both think.... »]
08/19/2005: Significant days in St. Louis baseball history...
[NOTE: This is another rerun from last year. Edited only to move up the anniversary date, correct minor errors, and add a few more fun facts and a couple pictures.]




Good God! How could I forget this one?

Today is the 54th anniversary of what was perhaps the most outrageous promotional stunt in major league history. On August 19, 1951 Bill Veeck, owner of the St. Louis Browns, signed Eddie Gaedel to a contract to play for the Browns. Let's let Veeck tell part of the tale:
In 1951, in a moment of madness, I became owner and operator of a collection of old rags and tags known to baseball historians as the St. Louis Browns.

The Browns, according to reputable anthropologists, rank in the annals of baseball a step or two ahead of Cro-Magnon man. One thing should be made clear. A typical Brownie was more than four feet tall. Except, of course, for Eddie Gaedel, who was 3'7" and weighed 65 lbs. Eddie gave the Browns their only distinction. He was, by golly, the best darn midget who ever played big league ball. He was also the only one.
Veeck built up the stunt, letting it be known that he would be celebrating Browns' manager Zack Taylor's birthday by giving him a present between games of the scheduled doubleheader. Gaedel was put inside a cake, and of course did the traditional "out of the cake routine", wearing a tiny Browns uniform with the number 1/8, as Veeck told the crowd that he was giving Taylor "his very own little Brownie". [Some of you may, like me, still be old enough to remember the "Brownie" line of cameras manufactured by Eastman Kodak at that time...] The representatives of the Griesedieck Brewing Company, brewers of Falstaff beer (and sponsors of the Browns' radio broadcasts), were, according to Veeck's memoir, Veeck as in Wreck, less than pleased.

Until the bottom half of the first inning of the second game. Frank Saucier, playing in his only major league season as a Browns outfielder, had been named in the line-up card as the Browns' leadoff batter, and he played the first half inning of the game in the outfield. Alas, before he could even step up to the plate the announcer in Sportsman's Park told the fans: "Now pinch-hitting for Saucier, number 1/8, Eddie Gaedel!" And with those words, the 3'7" Gaedel became the first (and only) midget to play major league ball. Needless to say, the opposing team's (Detroit Tigers) manager, Red Rolfe, objected, but Zack Taylor was prepared, and had Gaedel's signed contract in hand. After showing the umpire the contract, the ump ruled that Gaedel was, indeed, a legally signed player, and he was told to take his position in the batter's box. Gaedel walked on four straight pitches (Detroit pitcher Bob Cain was a good sport about the situation, though he could barely stop laughing while pitching to Gaedel), and was then lifted for pinch-runner Jim Delsing.

The Baseball Sachems were not amused however. Veeck, again:
Dan Daniel, a well known high priest from New York, wondered what "Ban Johnson and John J. McGraw are saying about it up in Baseball's Valhalla," a good example of Dan's lean and graceful style. Non-baseball fans should understand that baseball men do not go to heaven or hell when they die; they go to Valhalla where they sit around a hot stove and talk over the good old days with Odin, Thor and the rest of that crowd. (I am assuming that the baseball people haven't driven the old Norse gods out to the suburbs. You know what guys like Johnson and McGraw do to real-estate values.)
Two days later, Major League Baseball invalidated Gaedel's contract, barring him from future appearances as a player, and amended its player personnel rules to prevent Veeck from pulling such a stunt again. But Veeck got the last laugh:
It's fine to be appreciated for a day; I recommend it highly for the soul. It's better for the box office, however, to be attacked for a full week.
Veeck also got the last word in:
My epitaph is inescapable. It will read: "He sent a midget up to bat."
RIP, Bill Veeck. Alas, we'll never see another one like you again.

Actually, the scion of the Veeck family, Mike Veeck (Bill's son) is continuing the family business as a minor league owner and executive, associated with several minor league teams including the independent St. Paul Saints of the Northern League and the Hudson Valley Renegades of the New York-Penn League (one of the Class A affiliates of the Tampa Bay Devil Rays). In case you think that Mike isn't a chip off the old Veeck block, keep in mind that one of his partners in crime in his baseball ventures is none other than actor-comedian Bill Murray, who is actually listed on the St. Paul Saints website as "Owner/Team Psychologist", and who I've heard (through the Billy Ball email newsletter) is carried on the Hudson Valley Renegades table of organization as "Vice President of Fun".

One can only fervently hope that Mike will come to run a major league ballclub. Soon.

TRIVIA FACTOID OF THE DAY: The uniform worn by Eddie Gaedel in his sole appearance in a major league baseball game was, in fact, the uniform of Browns bat-boy Bill DeWitt, Jr.. Young DeWitt was the son of Bill DeWitt, Sr., who was part of the Browns ownership group prior to Veeck's acquisition of the club, and he continues his participation in Major League Baseball as Chairman of the Board and General Partner of the St. Louis National Baseball Club, Inc. (d/b/a the St. Louis Cardinals).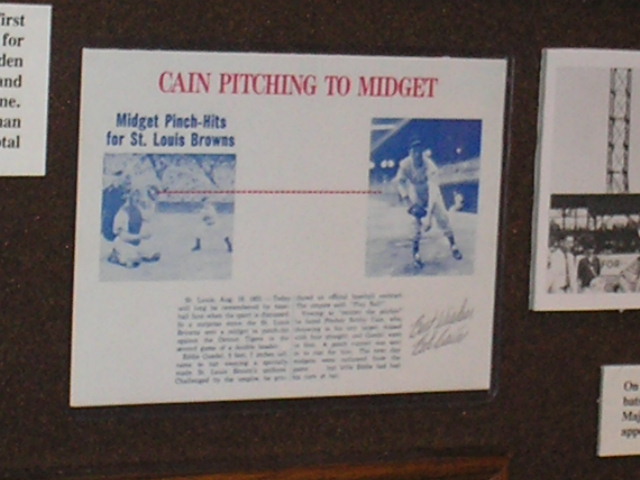 Len on 08.19.05 @ 06:16 AM CST





[