[« Thought for the Day:] [More Fahrenheit 451 »]
06/03/2005: Coming to terms with "My Chicago".... (part one...)
As some readers of this august blog, and some of my closest friends (the two sets do intersect) know, I am a not-at-all-proud-and-totally-disloyal alumnus of Northwestern University School of Law. That means that I spent three years living in Chicago, most of it wallowing in misery and self pity.

As long as I'm here, I'm trying to see if perhaps I can exorcise a few of these demons (what the hell; it's cheaper than therapy. I'm staying at the Best Western River North Hotel, which is not at all far from the old haunts of my debauched law student youth. So shortly after setting in here, I started out the hotel door and started north. My mission: to see if I could recapture some pleasant memories of my three years here.

No, I still despise Northwestern University School of Law, and if I didn't know it was a felony I'd bomb it. Repeatedly. But I was able to find a few happy memories (as well as a sad one or two, and a couple "you wont see this in Memphis" sights that brought at least a slight smile to my face). Pictures (WARNING: lots of pictures) and text below the fold.



This is what greeted me when I got to my room: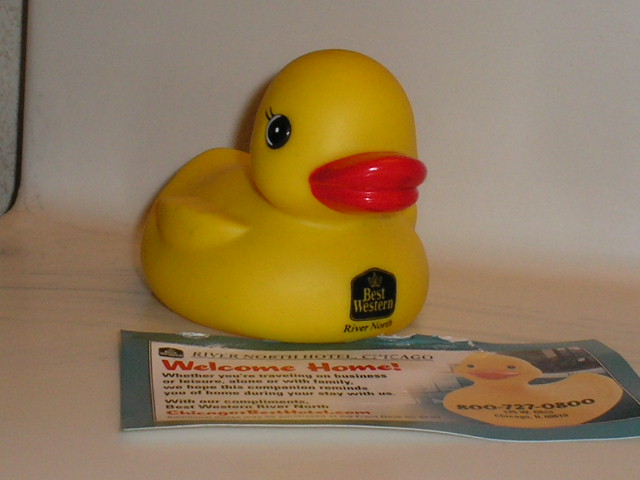 It looks like this is an abberation of the River North property; I've never seen one of these in any other Best Western property I've stayed at. On the other hand, all the staff I've met have been incredibly friendly and helpful, and the hotel does give free parking (a minimum $25 value in this neck of the woods), so I'm not going to complain. Odds are I'll probably abscond with the little sucker when I leave.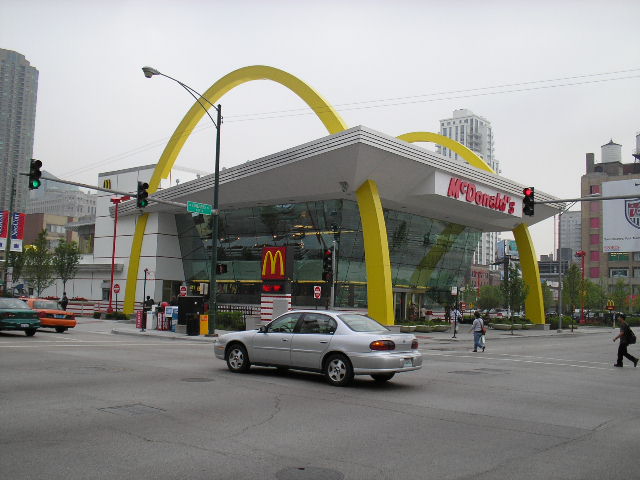 Leave it to the adopted home of McDonalds Hamburgers to go completely apeshit in building a downtown McDonald's. I have to admit I love the retro style architecture, though the scale is all screwy (no classic Mickey D's has ever had two floors, that I'm aware of.

And here's a sight you won't see in Memphis anytime soon, I'm betting: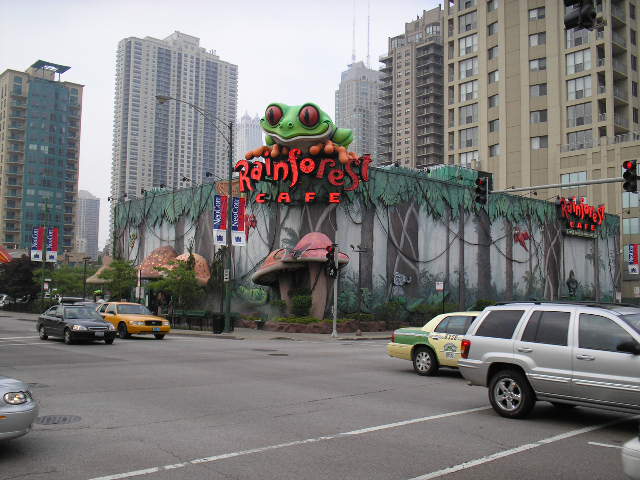 A genuine Rainforest Cafe. And another sight not too far from my hotel; this advertises a chain (?, I think I saw at least two in this area) of blues clubs (I think):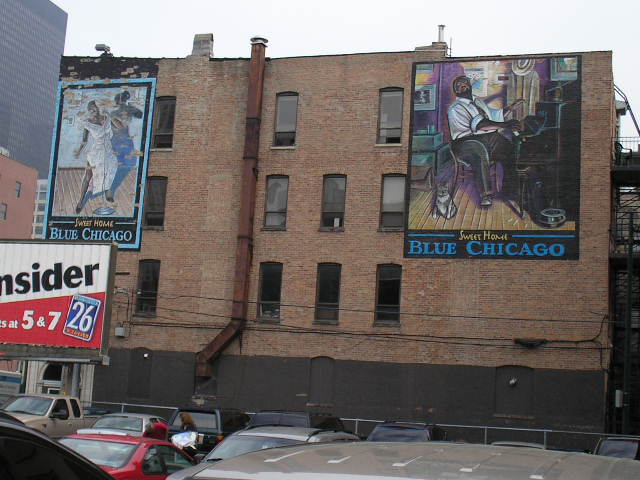 This is sorta a Chicago memory: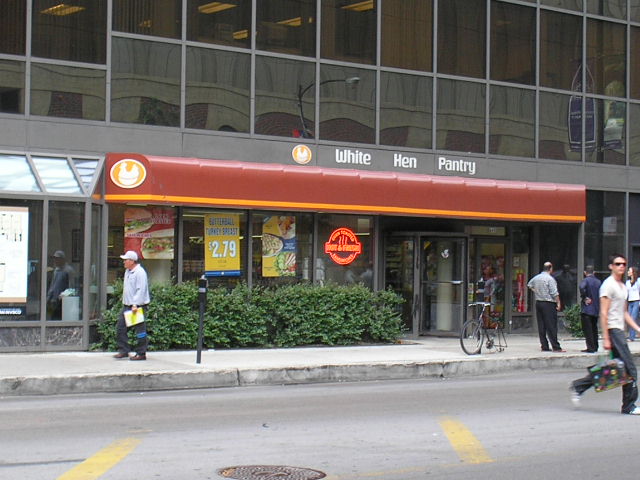 White Hen Pantry is a chain of convenience stores. I have no connection with this one, but there was a White Hen about three blocks or so south of the dorm I lived in at law school. You could buy sandwiches there (excellent for a quick lunch during a busy day), and there was a basic selection of beers, if you ever found your supply of brew going low.

This sight will keep me mildly depressed until I hear "Meine Damen und Herren.... Ladies and Gentlemen.... Heute Abend aus Deutchland.... Die Mensch-maschine.... Kraftwerk" as the band takes the stage tomorrow: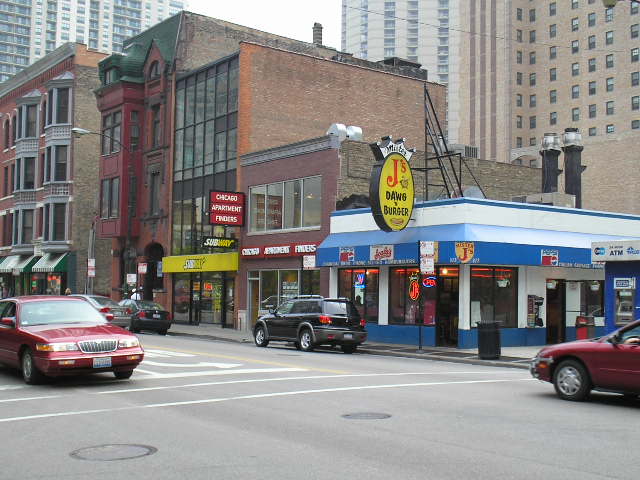 By way of explanation: I lived in a dorm on the NU Chicago campus most of my career there. As in many colleges/universities, there was no food service in the dorms Sunday evening; we were left to fend for ourselves on the local economy. And the majority of Sundays (and a few other stray nights) we'd find ourselves at Mr. B's Dawg and Burger (there are apparently a number of "Mr. [insert letter]'s Dawg and Burger"s around; while wandering around this evening I ran across a "Mr. G's" not far away). Great tasting, huge, incredibly greasy burgers and fries. As you can see from the picture, Mr. B's is no more (it was where the Subway is in the picture above); Mr. J's was a competitor which was doing business, IIRC, when we were going to Mr. B's.

This especially bummed me because when I'd attended Kraftwerk's 1998 Chicago show, I ate at Mr. B's for old time's sake before riding the El to the Riveria. I was looking forward to chowing down on a huge, greasy Mr. B's cheeseburger tonight. Alas, I could not. *cue bitter weeping*

Streeter's Tavern: The Greatest Bar Below The Earth: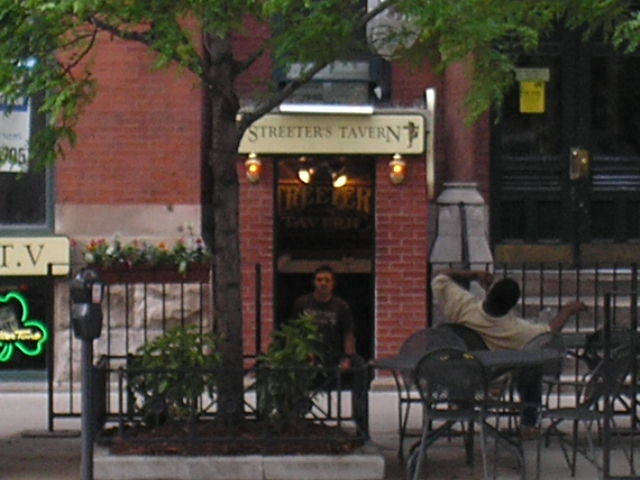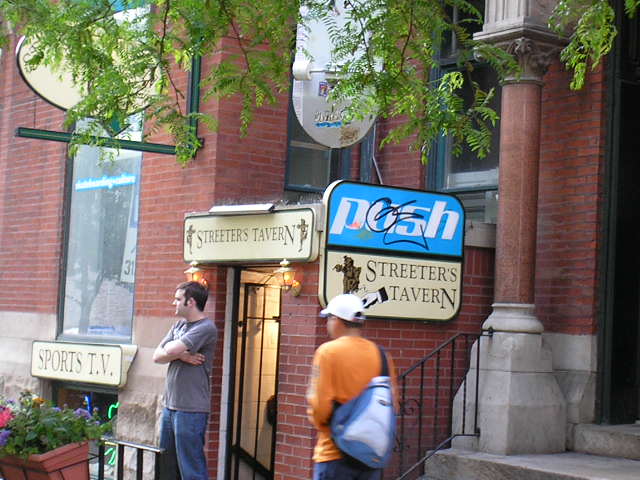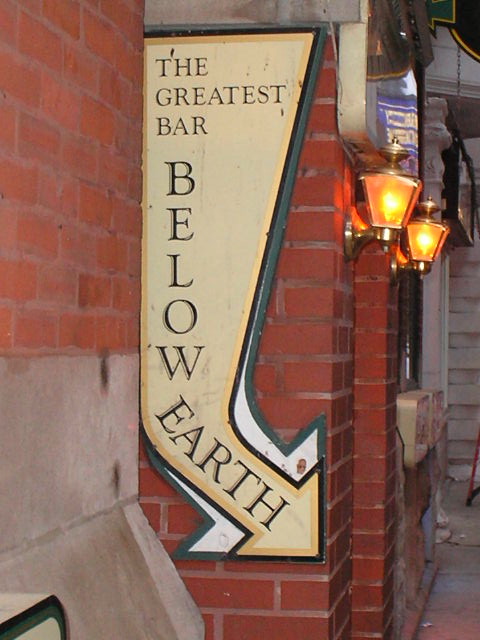 Streeter's is significant since it was the Offiicial Bar of the NULS Class of 1982. I can't even begin to count the brain cells I killed off in that establishment, given our proclivity for going there at the slightest provocation. So I figured that I had to suitably memorialize those killed brain cells: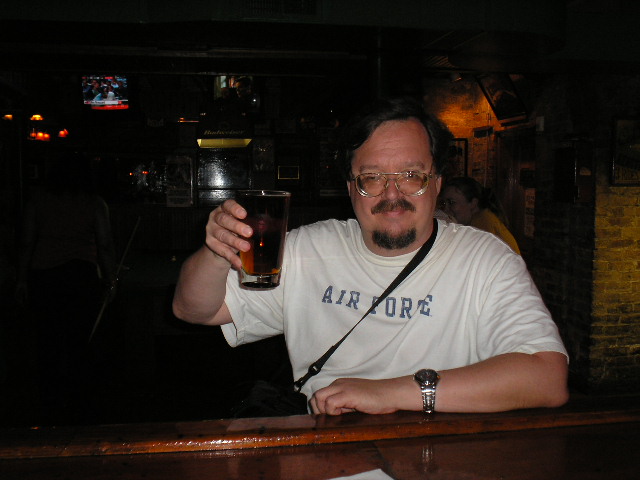 How better to memorialize dead brain cells, than by sending a bunch of live ones to join them?

Moving right along, around the corner from Streeter's is Pippin's. We didn't spend as much time at Pippin's as we did at Streeter's (dollar pitchers three nights a week does a lot to convince an impoverished law student where the best place is to spend his/her loan money on beer), but when we wanted a change of pace Pippin's was always available: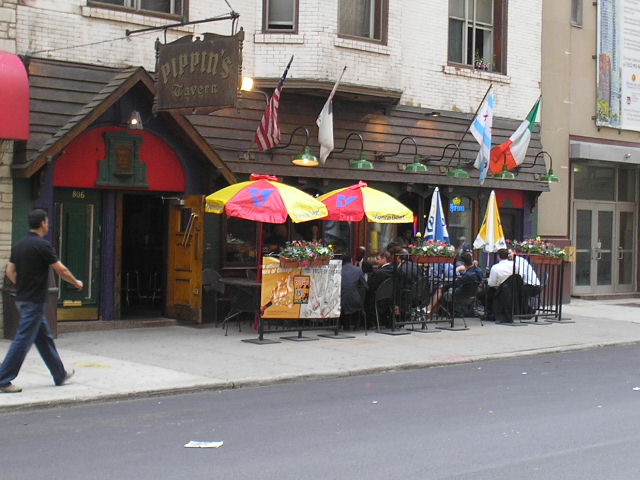 And not far from either of those fine establishments is this: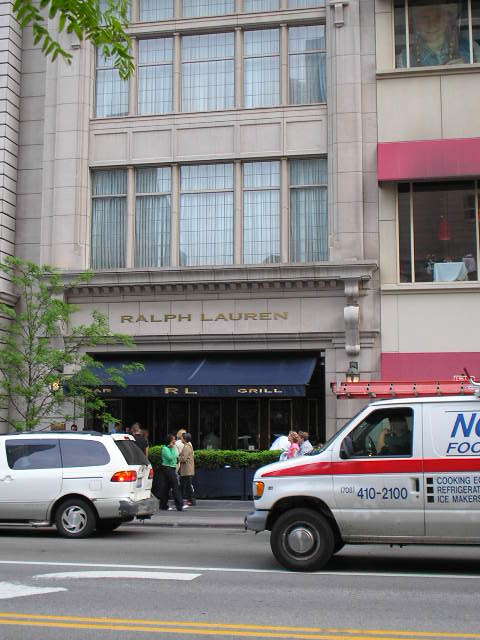 This used to be an Arby's outlet. In addition to being the starting point of a number of drunken debauches (I had enough medical students in the dorm around me to learn that it's never a good idea to start drinking on an empty stomach), my first wife (who I met during my time in Chicago) and I acquired our first full set of holiday themed glasses here (we were cheap, the glasses were free, and we liked Arby's well enough). As you can see, the place has gone upscale in the interim.

Down Chicago Avenue from Streeters (heading towards the law school), I saw that Chicago has gotten with the times, "walk signal-wise". Now the walk signals count down the amount of time you have to get your ass across the street before the drivers get a crack at turning you into a greasy spot on the pavement: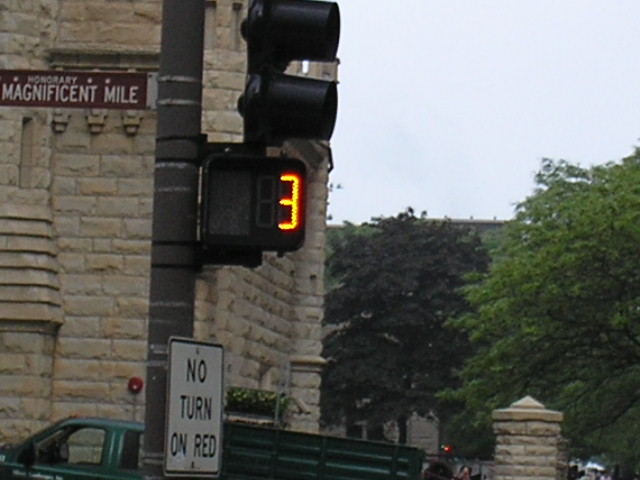 I hated the law school. I still do. I didn't have any problem with the medical school, however; a number of my friends in the dorms were med students, and generally they were better company than law students. So no pictures of the law school here, but here's a couple pictures of the medical school: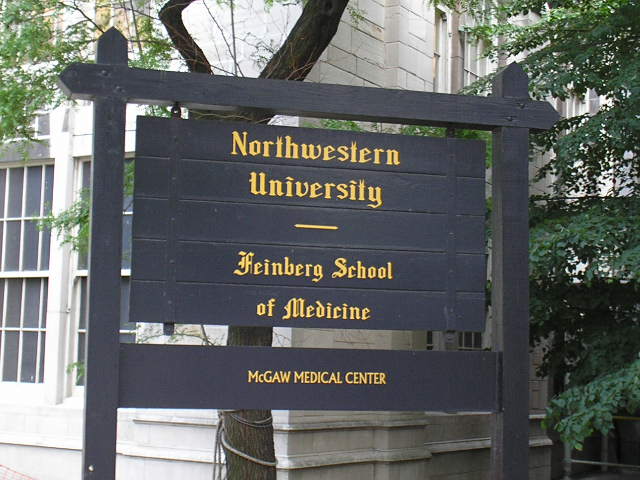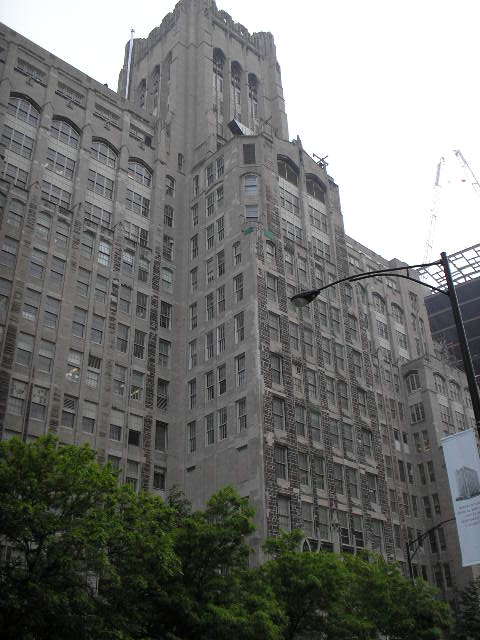 Lake Shore Park is directly across Chicago Avenue from the Law School buildings. It was here, during the annual summer grudge match between the Northwestern University Legal Clinic and the University of Chicago Legal Aid Clinic, I had my first taste of 16" Chicago Style Softball: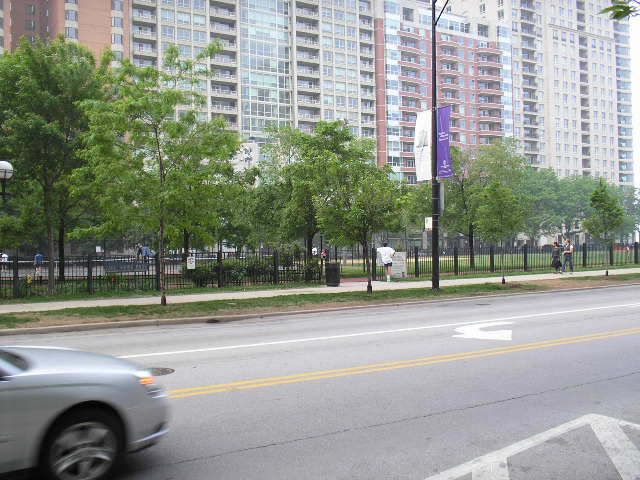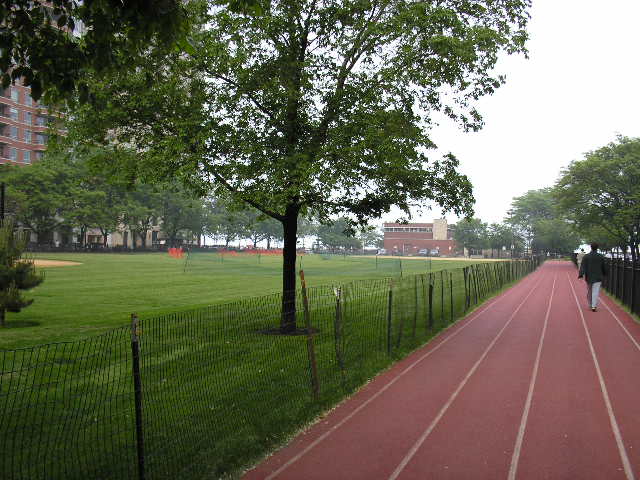 Chicago style softball? Basically, the ball is the size of a slightly stunted cantelope, and you don't wear gloves. Broken fingers are a very common occurance. I'm allergic to pain. Needless to say, I didn't catch the ball. Not once.

Chicago can keep its style of softball. I'll take a smaller ball and a glove, thank you.

In order to cross Lake Shore Drive to reach the lake shore, the great City of Chicago has provided tunnels like these underneath L.S.D. at strategic intervals. This one is near the law school (at Chicago Avenue and L.S.D.), and I got to be quite familiar with it: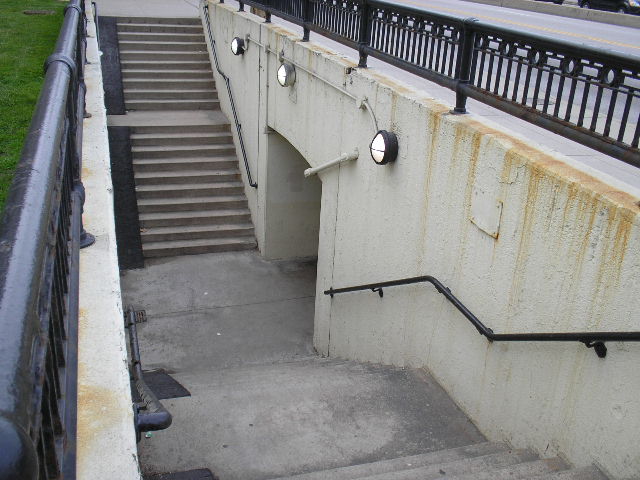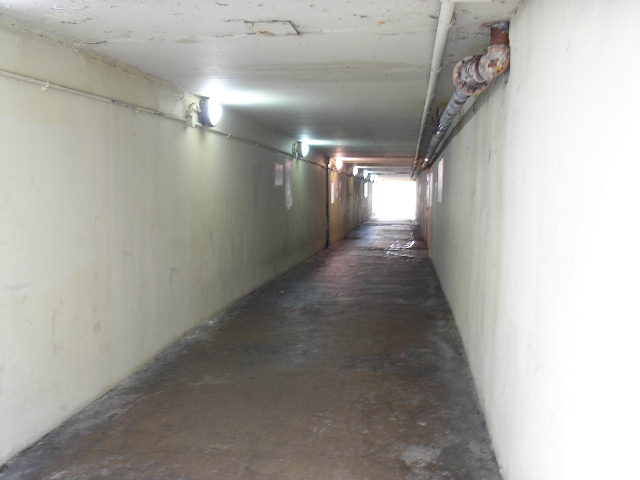 I was pleasantly suprised; the strong aroma of stale urine that was the usual accompaniment to a walk across L.S.D. to the lakeshore during my law school days wasn't there when I wandered over today. Maybe the city is cleaning things up.

Here's my old home, Abbott Hall (or as we sometimes affectionately called it, "Chateau Abbott" (pronounced "Ab-BOW", as if it was French)).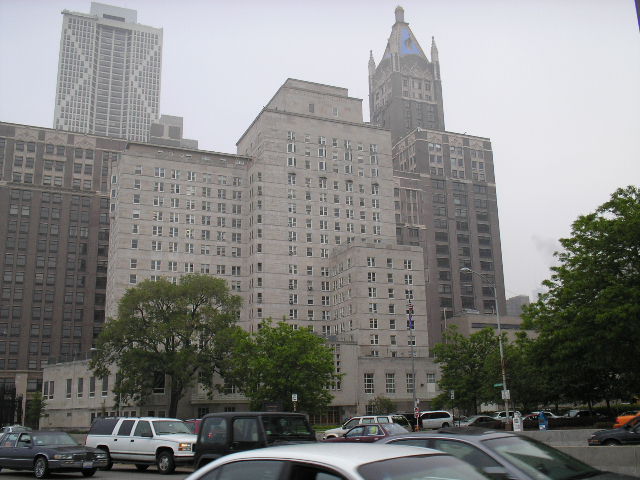 My favorite piece of Abbott Hall trivia: Abbott Hall is mentioned, by name, in Herman Wouk's novel, The Caine Mutiny. One of my favorites, even if Wouk hadn't mentioned it. (During WW II, Abbott Hall was used by the Navy as a midshipmen's school, turning out "90-day wonders" to man the fleet.)

I spent three years there, and there were some good times. The other Chicago Campus dorm was Lake Shore Hall: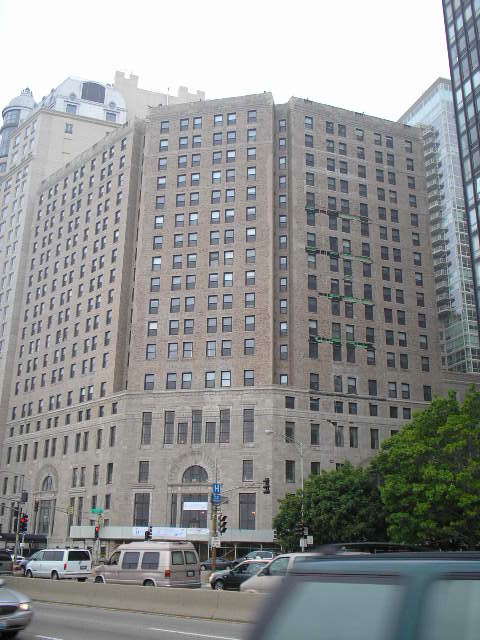 This was a former luxury club before the University acquired it, and it boasted a number of luxuries we didn't get in Abbott Hall. Like a bar on the second floor, and rooms with private bathrooms (not the shared, dorm style, bathrooms we had in Abbott).

While I was in college, a friend (an archeology major, obviously) dragged me to see the King Tut exhibit that was in the Field Museum then. I got to stay in an apartment in one of these buildings: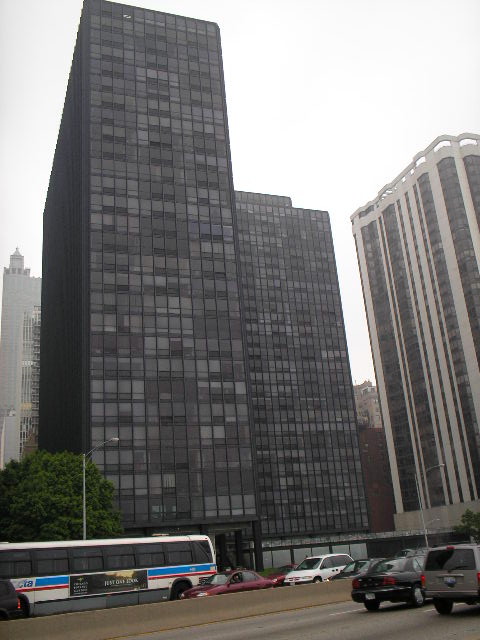 I believe that these are a pair of buildings designed by the famed architect, Ludwig Mies van der Rohe. Very impressive apartments.

Here's a few views along the lake shore. I often walked for exercise up and down the lake shore: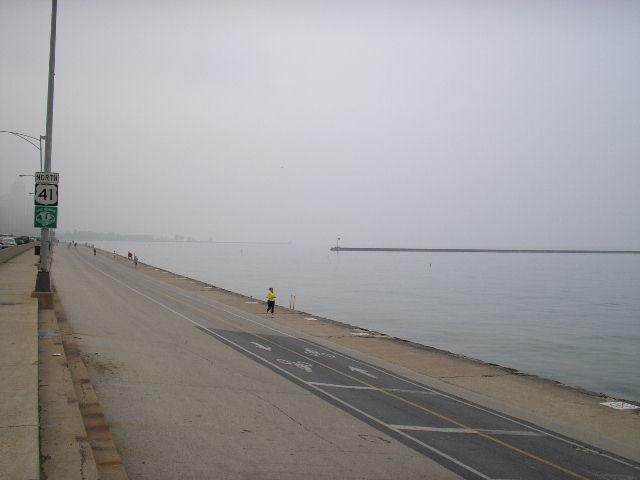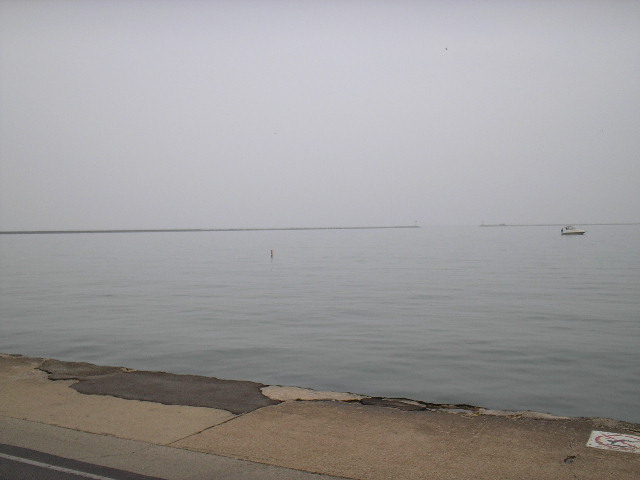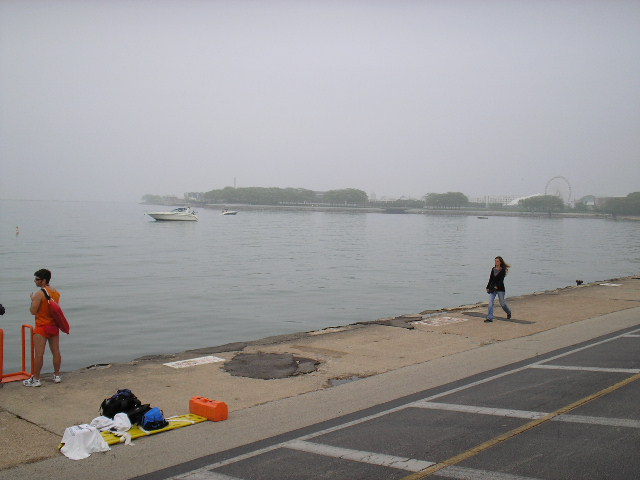 Walk up north a ways, and you soon hit the Oak Street Beach. Or, as my classmate Steve Twiss dubbed it, "The world's largest open air striptease." Basically, during the summer secretaries from nearby offices, clerks from nearby stores, and other women seeking to work on their tans would wear swim suits under their dresses (instead of bras and panties), walk out to the beach, and sunbathe during their lunch hours: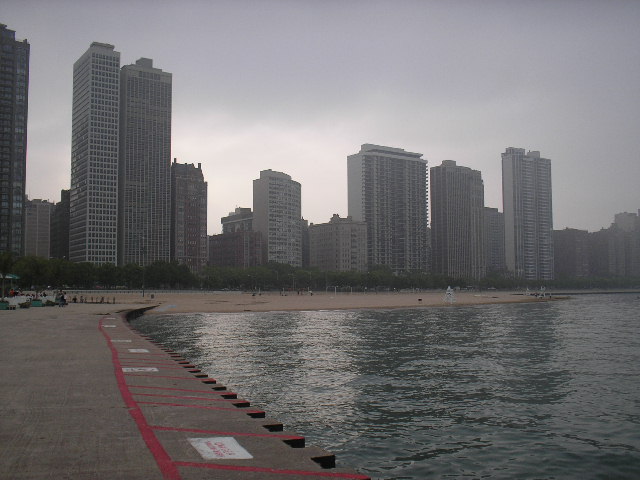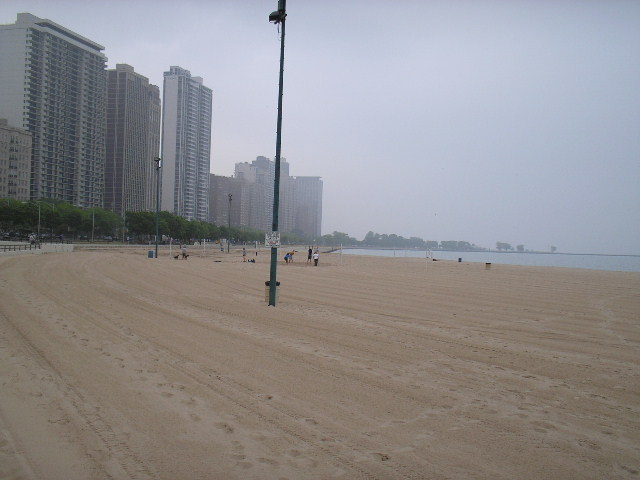 The Oak Street Beachstro is, however, an addition that postdates my time in Chicago: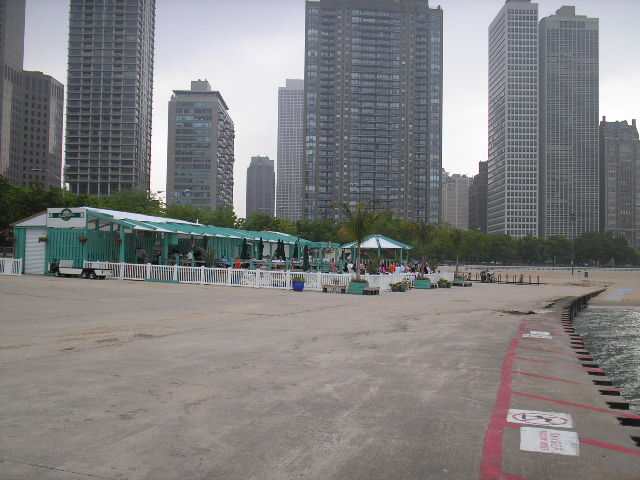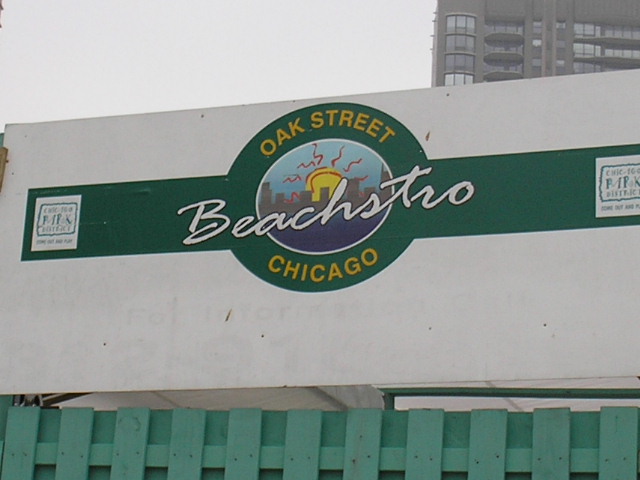 Across the street from the Oak Street Beach is the world-famous Drake Hotel, and the Playboy Tower (or at least, what was known as the Playboy Tower when I was there) behind it: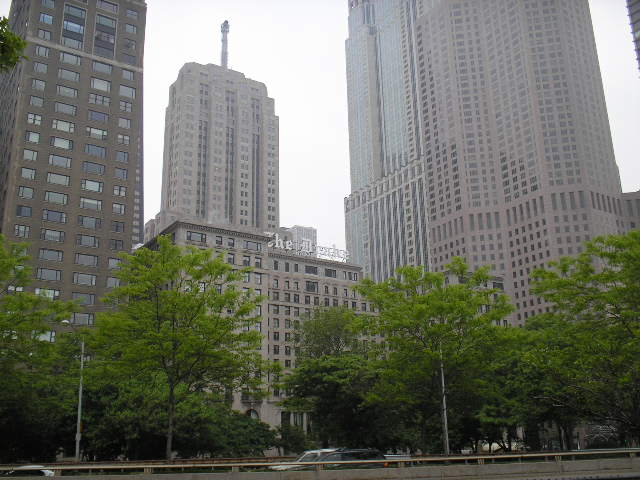 And visible during my walk on the beach was another pair of Chicago landmarks: Water Tower Place and the John Hancock Center. I've spent a little time in both; some of my classmates and I had drinks at the bar near the "top of the 'cock", as we'd call it, on several occasions: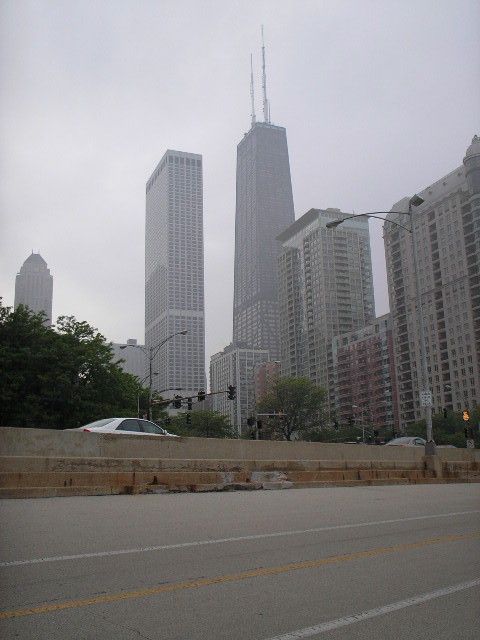 Walking down Oak Street to the west, you see this: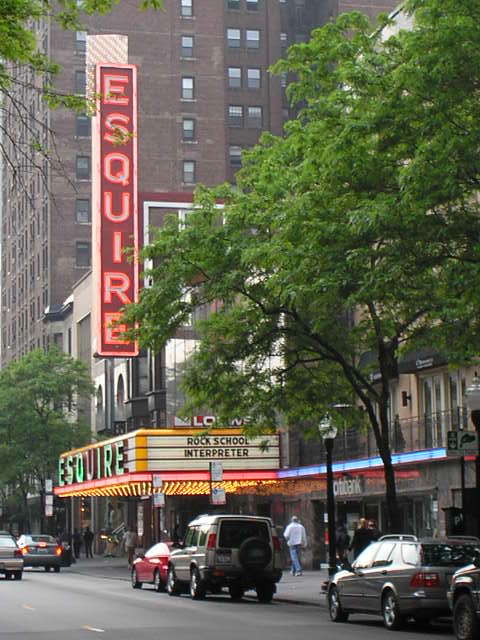 I think that every city over about 100,000 or so was at one time required to have an "Esquire Theater"; we've also got one in St. Louis (well, Clayton, which is just over the city line...). This one has a personal connection too; it's the theater where I first saw The Empire Strikes Back. I went to the second show on the first day of release; I wasn't a big Star Wars nerd back then.

When I got to Oak Street and Rush Street, I decided to head north. As I did I caught sight of this fine establishment on a side street: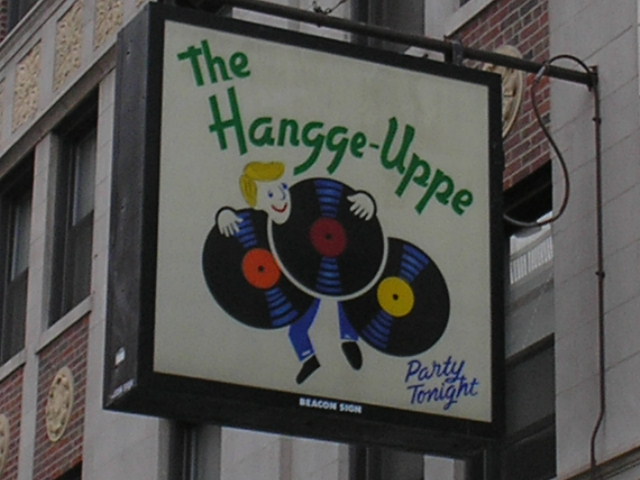 The sign's been altered a bit, but it's still the same place. I've not killed as many brain cells here as I did in Streeter's, but I've seen more aspiring pick-up artists shot down in flames here as I have anywhere else. Not to mention that the Hange Uppe had the best matchbook covers I've ever seen. Printed on the inside was the following deathless prose:
Hi! You probably don't remember me,
but we met at
The Hangge Uppe
My phone# is



Call me sometime!
You have to admire a bar that has no illusions about what it is.

I also caught sight of this establishment off Rush Street: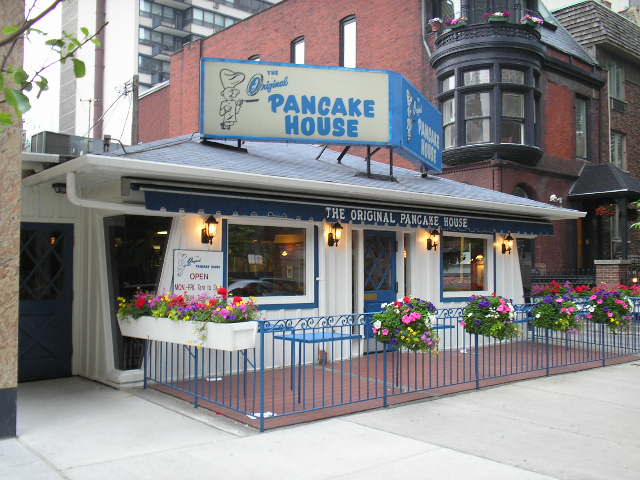 We used to go here for Sunday brunch a lot, and they served a mushroom omlette with wine sauce (and potato pancakes on the side) that were to die for. I visited another OPH (across from Lincoln Park) when I saw Kraftwerk perform here in 1998; the mushroom omlette and wine sauce were still excellent, but, alas, there were no more potato pancakes....

If I'm lucky, I'll return tomorrow morning and find out if they're still doing the mushroom omlette....

Len on 06.03.05 @ 11:59 PM CST





[