[« Apropos of this weekend's festivities....] [Yes, Boston can be beat. »]
06/07/2005: An Evening With Kraftwerk, The Annotated, Illustrated Setlist
[This is the post I'd have liked to post Sunday morning, if only I'd had the pictures with me and the time. Apologies in advance for the poor quality of some of these shots; as you might imagine, the conditions weren't exactly optimum for digital photography with a relatively inexpensive camera.]

Once upon a time, not very long ago (until about 9:15 PM or so last night, in fact), I used to tell people that the Kraftwerk show at Chicago's Riviera Theater on June 6, 1998, was the best concert I'd ever attended in my life.

Not any more.

Last night's show by the masters of "robot pop" simply blew me away (almost literally as well as psychologically; they had the volume cranked up pretty damn high). I was expecting to enjoy myself immensely. I wasn't expecting to have a 2+ hour eargasm.

Not that I'm complaining, you understand.

I'm really not in a position to give a detailed review of the concert. I'm not a professional music critic, of course, and one of the reasons is that, at a show like this, I like to let the music carry me away (or at least get into my being) and affect me viscerally. Trying to review this concert is too intellectual an activity for me here; even though I'm probably the most overintellectuallizing person I know, I didn't want to intellectualize this experience. I just wanted to merge with the music, and for the most part I got my wish.

For what it's worth, though, here's an "annotated" setlist of last night's concert, as I remember it (I was taking notes on the setlist, so I'm pretty sure that I've got the selections down reasonably pat):

"Pre-show": My tickets (and the Ticketmaster website for the Riviera) said that Kraftwerk would be openiing at 9:00 PM "sharp". Alas, 9:00 PM sharp turned into 9:00 PM flat, as the appointed time came and went without any appearance by the man-machines from Düsseldorf. About 9:10 or 9:15 the house lights were still up, but we could hear synthesizer notes (some tantalizingly familiar) coming from behind the plain white curtain onstage. Finally, the house lights dimmed....

Meine Damen und Herren..... Ladies and Gentlemen.... Heute Abend... Die Mensch-maschine.... Kraftwerk It was tough to hear the vocoder intro, what with the crowd going completely batshit once they heard the beginning of the intro.... The opening bars of "Man-machine" began wafting out as red spots backlit four figures standing at their synthesizer workstations, casting familiar silhouettes against the curtains.

Set list [source album in italics]

First set (band dressed in dark grey suits):

Man-Machine/The Man-Machine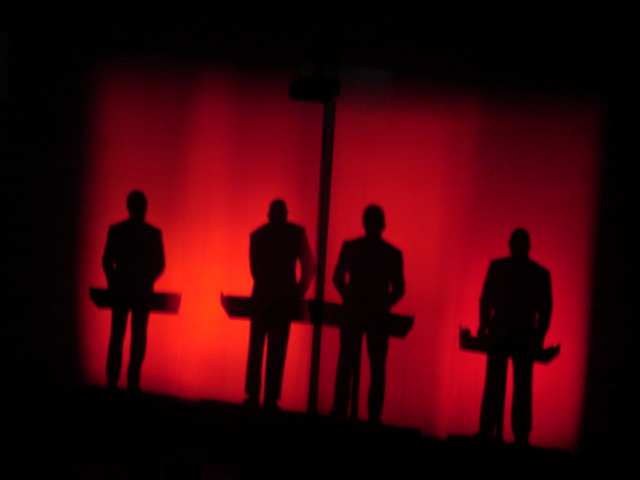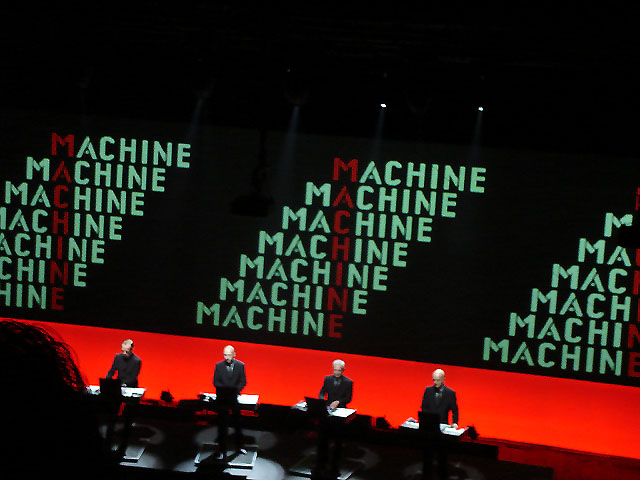 Planet of Visions/no album; CD "single" release of a variant as "Expo 2000""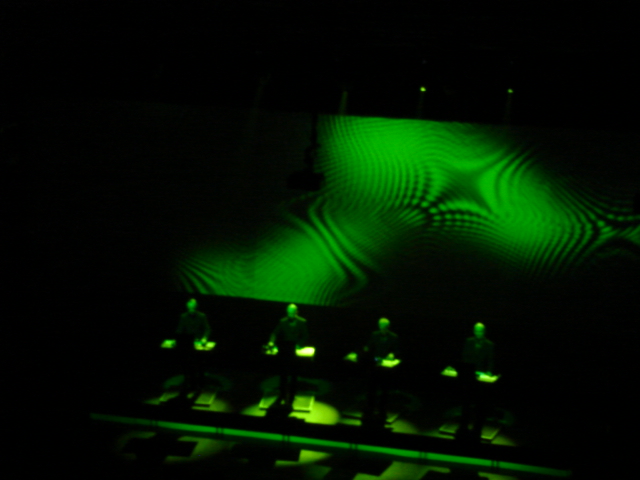 Tour de France 2003 and Chrono (medley)/Tour de France Soundtracks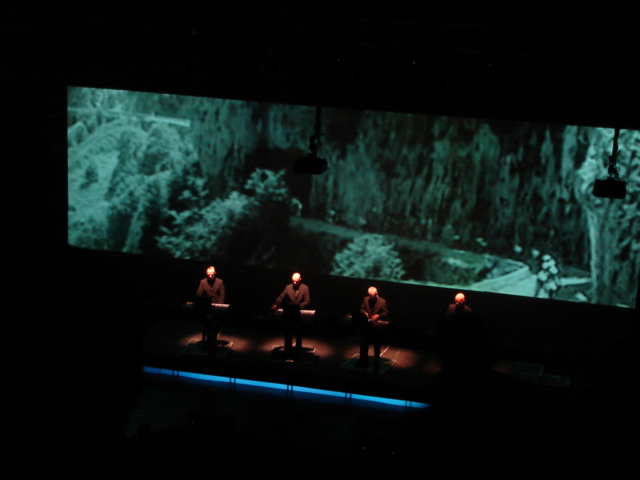 I'm fudging this one because I'm not such an obsessive Kraftwerk nerd that I can tell the difference between "Tour de France Etape 1", "Tour de France Etape 2", "Tour de France Etape 3" and "Chrono". I'm pretty sure I heard "Chrono" in there, and I do recognize the basic "Tour de France" theme from the 2003 album; that's as good as I can call it
Tour de France 1983/released as a single in '83, also featured as a track in Tour de France Soundtracks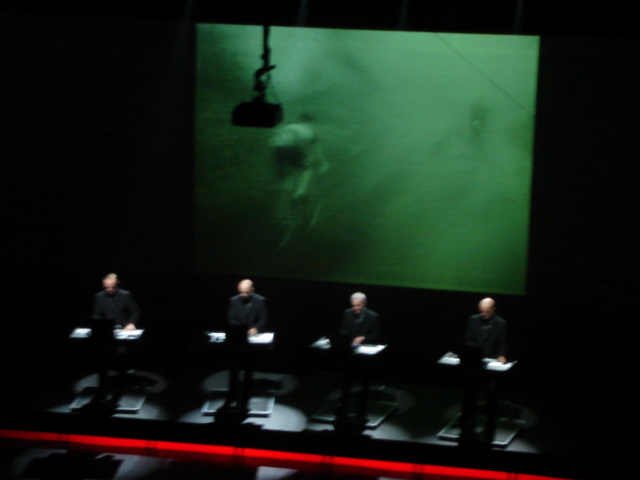 Both "Tour de France" versions had some great accompanying video footage of the Tour. TdF 2003 appeared to have more modern footage; TdF 1983 was more vingage footage. How appropriate. It was during TdF 1983 that I noticed that it was Ralf Hütter (I think) doing all the vocals, a pattern which continued all evening.
Vitamin/Tour de France Soundtracks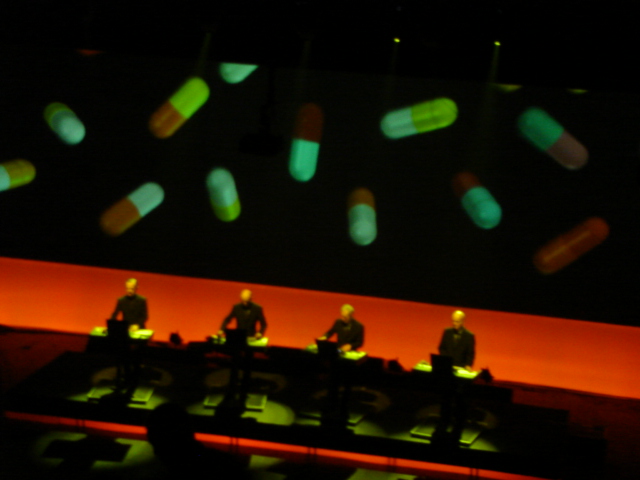 Excellent accompanying video of tumbling pills/capsules, plus the obligatory projected lyrics. Vitamins must apparently come in effervescent tablets (like Alka-Seltzer here) in Europe, since that was a continuing theme in the video. The last tableau of the video was the word "VITAMIN", dissolving away in effervescence like an effervescent tablet. I couldn't resist the bad pun; I leaned to my companion and said, "Look: alpha-seltzer." She didn't swat me, so it may not have been that bad.
Autobahn/Autobahn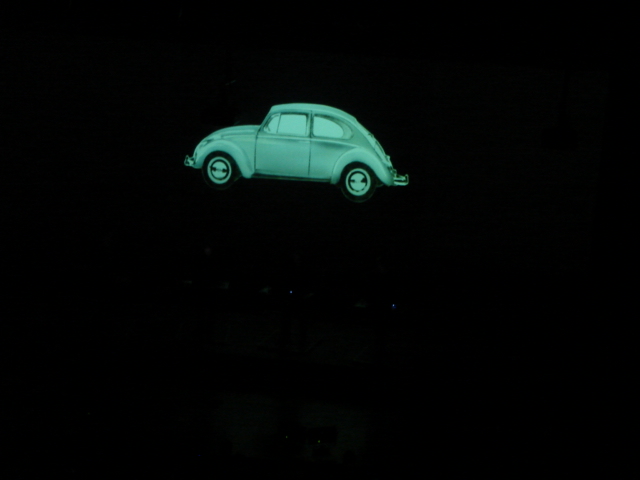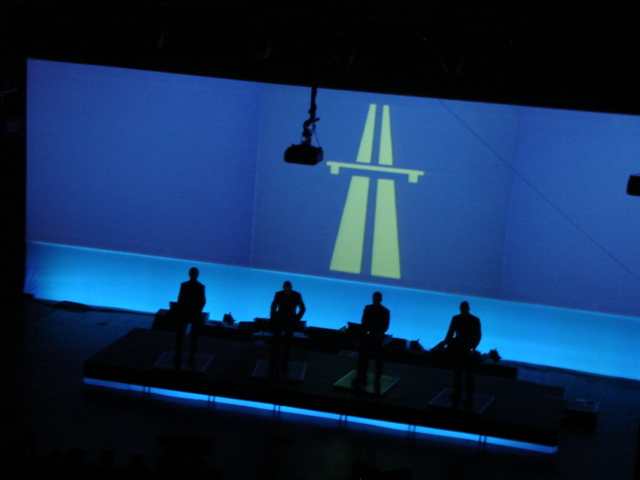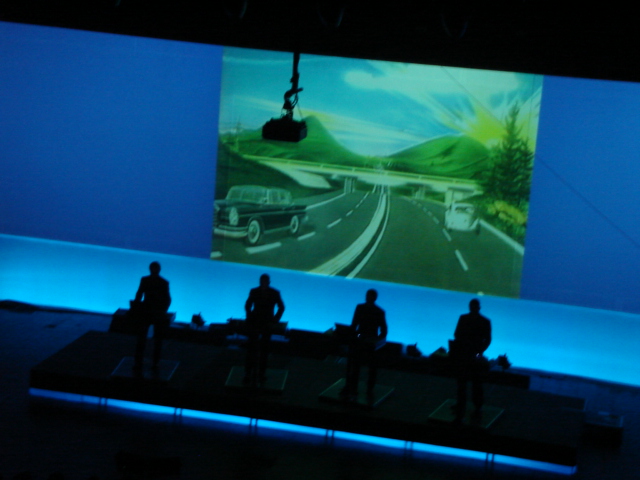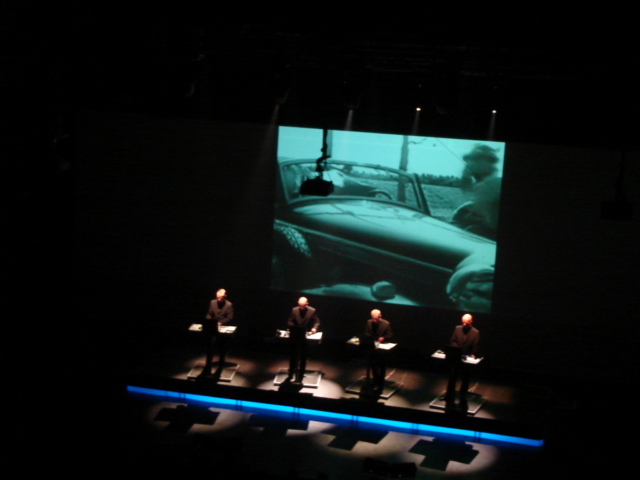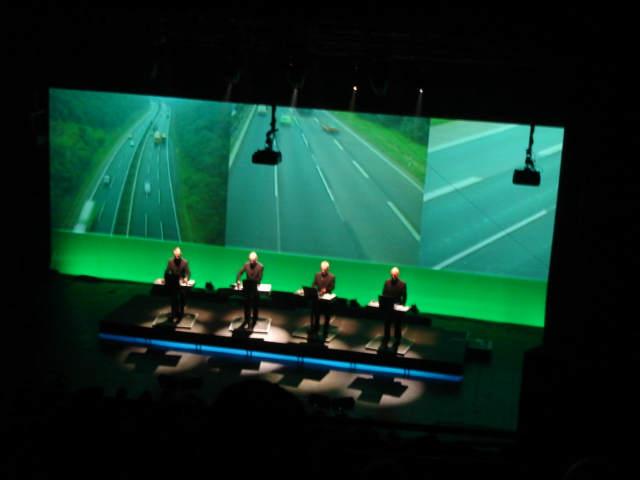 "Autobahn" is my all time favorite Kraftwerk song, so I was in ecstasy during this one. Great vintage videos of the Autobahn, as featured in the 1998 concert, too.
The Model/The Man-Machine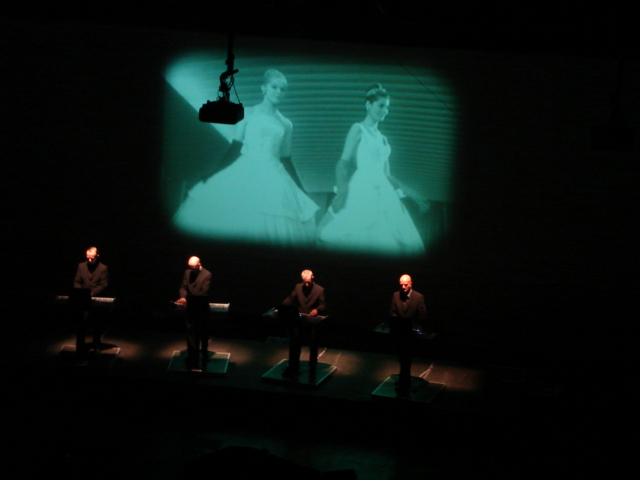 Neon Lights/The Man-Machine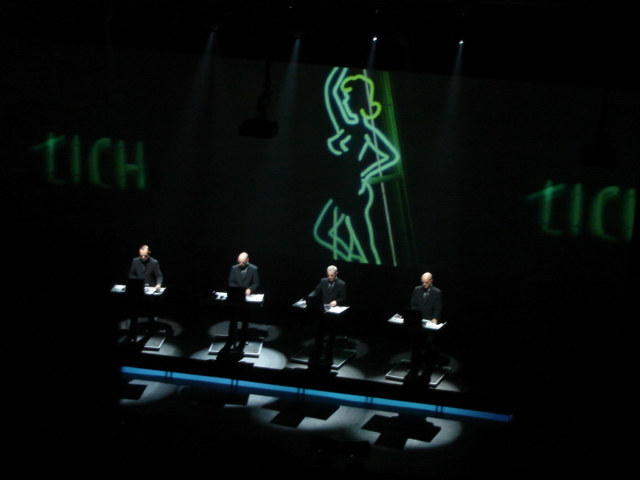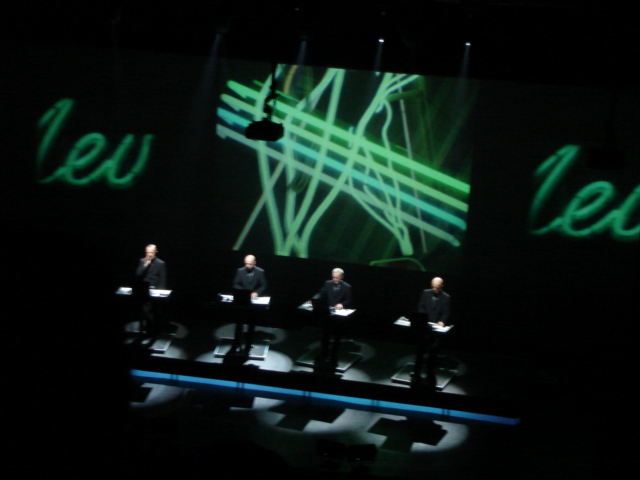 "The Model" and "Neon Lights" are a pair of vintage favorites of mine. I still think that "Neon Lights" is one of the most emotionally compelling of their songs. One member of the ANTENNA mailing list (I think) said that he broke into tears when he heard it. I can undertand why. I came close myself.
Radioactivity/Radioactivity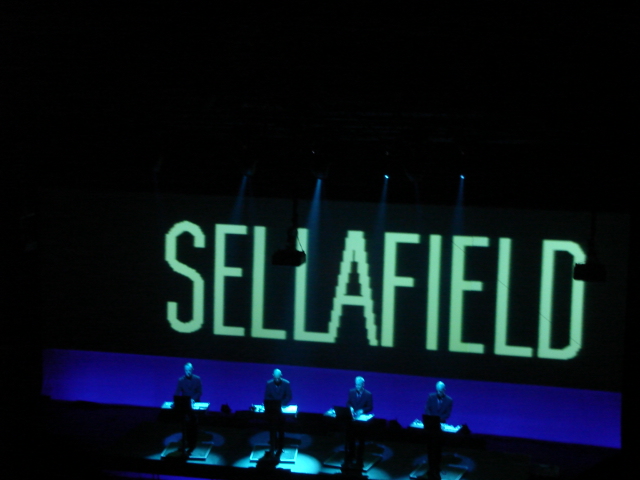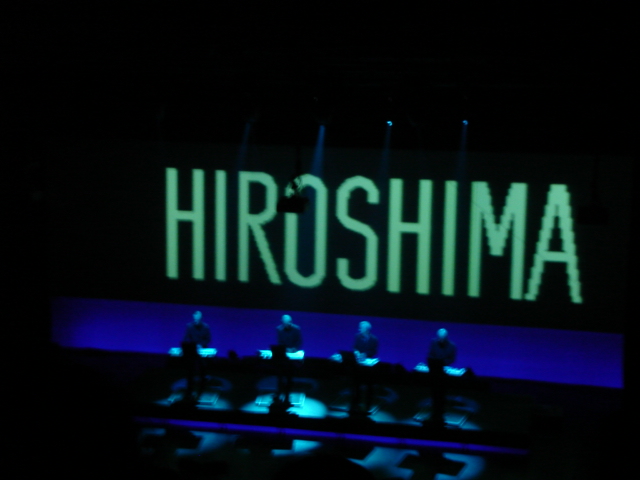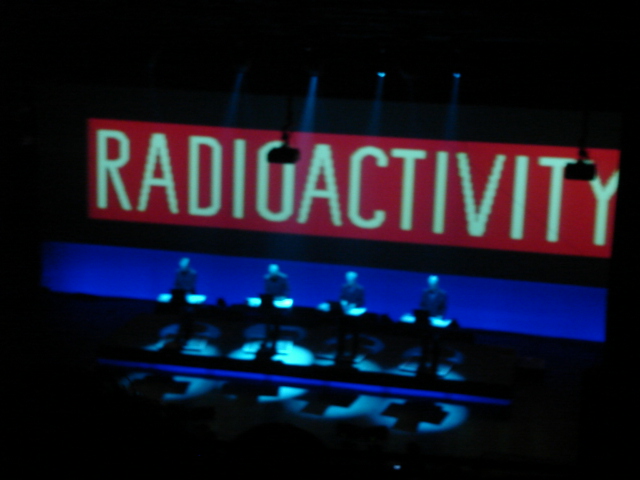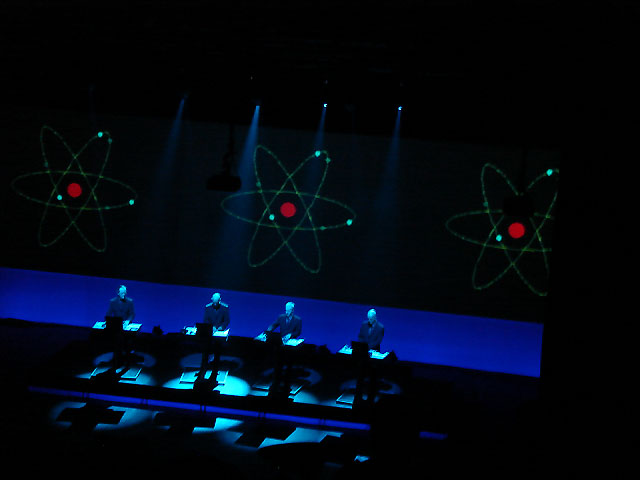 I think that Radioactivity is one of Kraftwerk's most underappreciated albums, at least most underappreciated by the band itself, since the only cut they do from that album in concert is "Radioactivity". My dream is that someday, before I die, they'll add "Ohm Sweet Ohm" to their concert setlist, and that I can attend that concert.
Trans Europe Express, Abzug, Metal on Metal/Trans Europe Express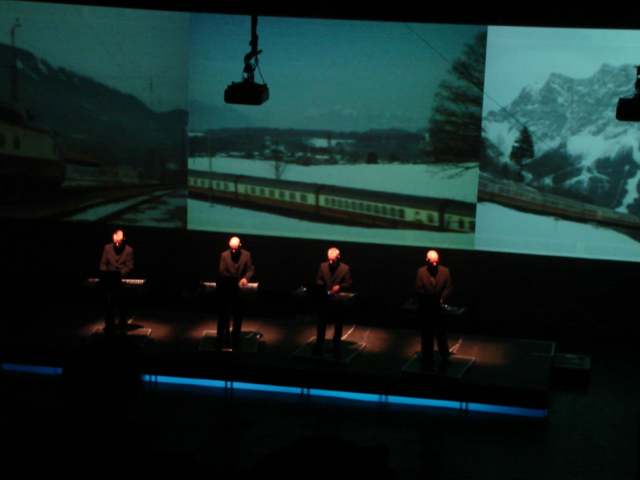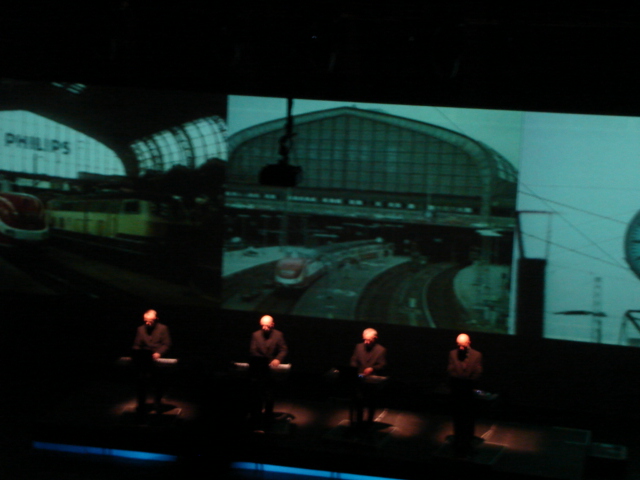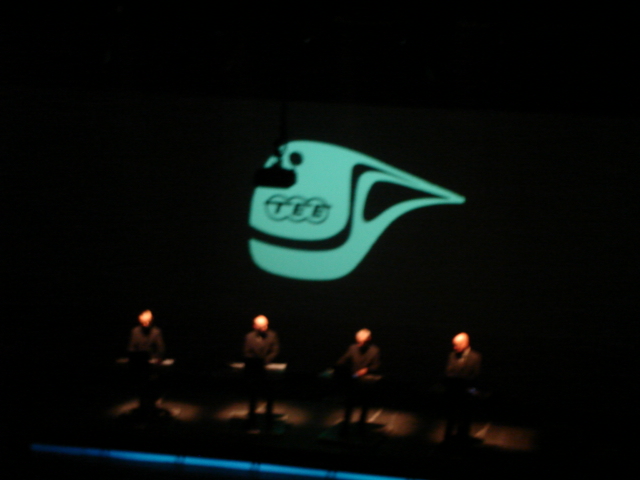 My second all-time favorite Kraftwerk work. Excellent railroad oriented videos, including those of the actual Trans Europa Express...
Curtain falls....

Second set (band still in dark grey suits, but their ties incorporate blinking red LEDs):

Numbers/Computerworld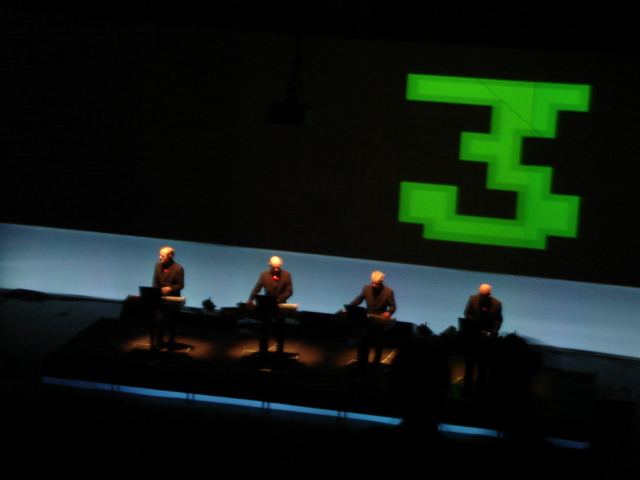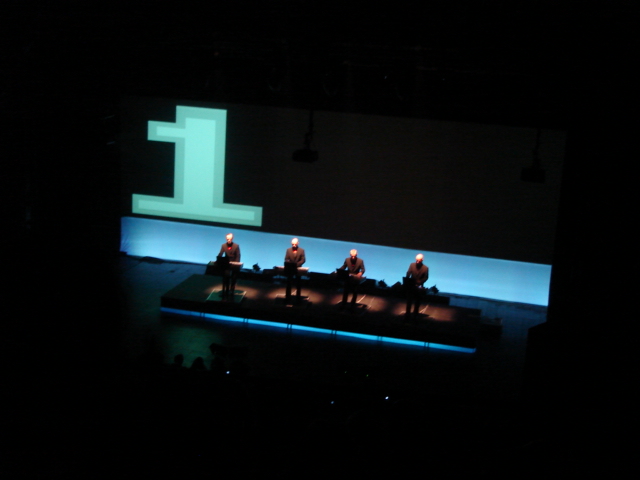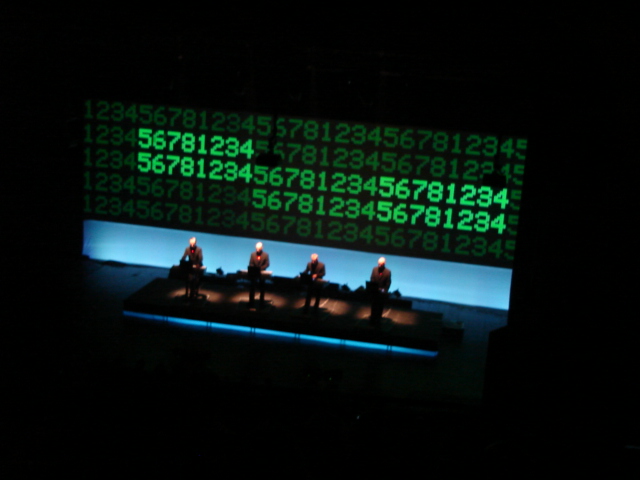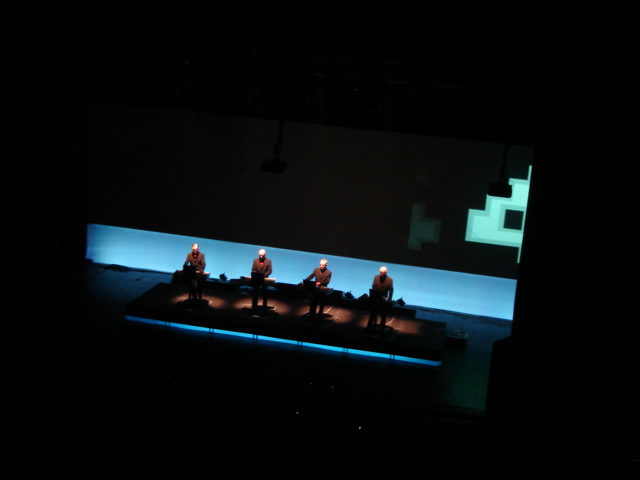 If you viewed the "Numbers" live performance video I posted here a few days ago, you have a good idea of how this one came across. Much, much more impressive in person, though.
Computerworld/Computerworld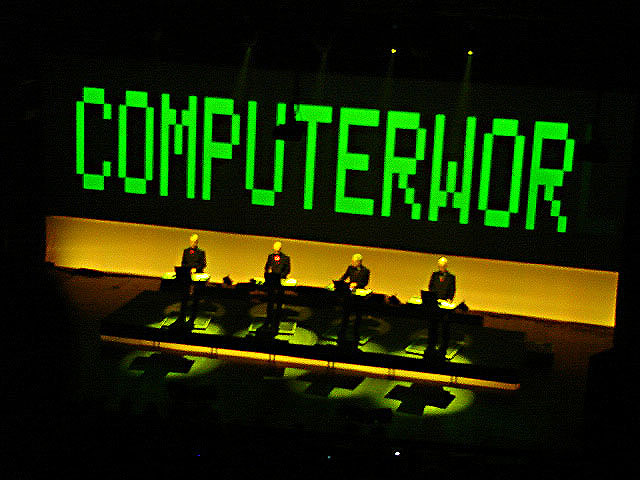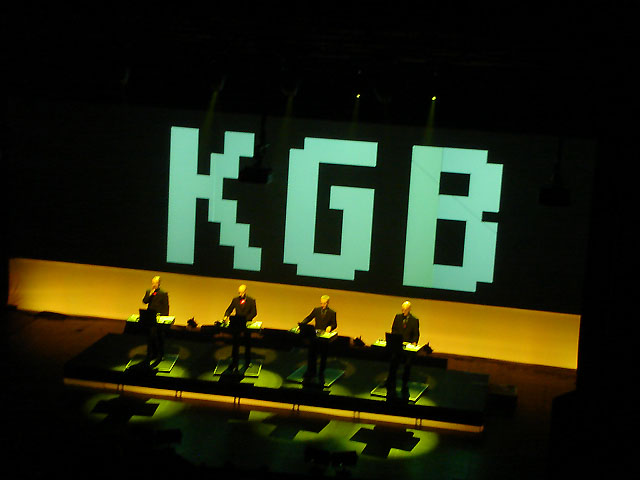 Probably my number three all-time favorite after "Autobahn" and "TEE". I thought I'd heard a rumor that this had been dropped from the concert setlist. I was relieved to see it performed here. It's a fun song in recording; it's awesome live.
More Fun To Compute and Home Computer/Computer World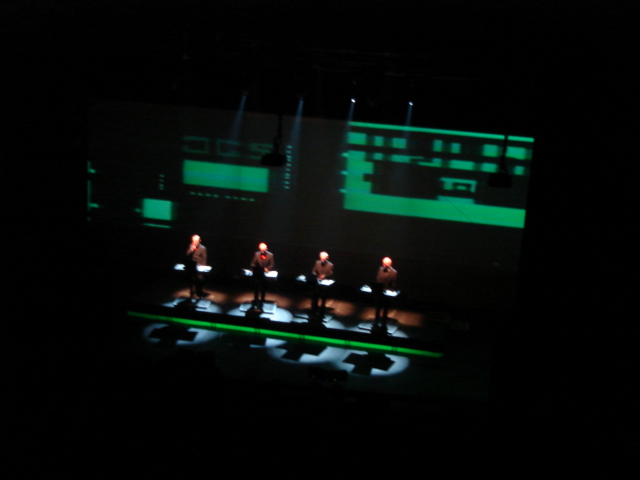 Pocket Calculator, Taschenrechner/"Pocket Calculator" is from the U.S. release of Computerworld; "Taschenrechner" is the German version of "Pocket Calculator", and probably was released on the German version of that album.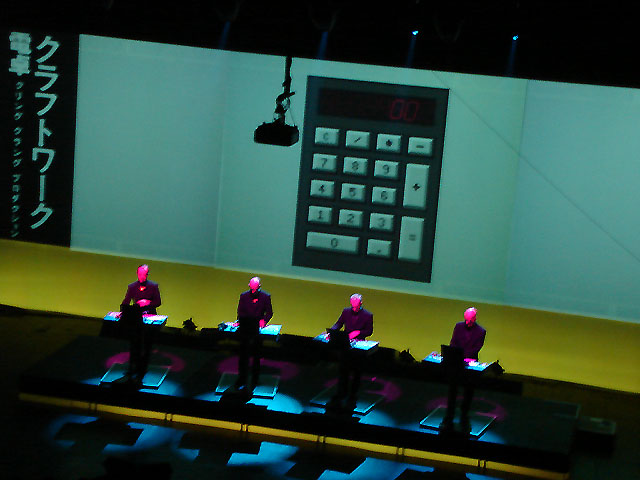 Another one that rumor said had been dropped from the concert playlist. A real fun song live, so I was glad it was still in. However, I wish they'd bring back the little "pocket calculators" that they used to play this one in the 1998 concert. Instead of "Dentaku", which I was expecting, they sang "Pocket Calculator" in another language (maybe French; I couldn't recognize it, myself) after the English version.

UPDATE (6/10/05): According to MzDe, a member of ANTENNA - The International Kraftwerk Mailing List, they played "Taschenrechner", the German version of "Pocket Calculator", in the DC and New York concerts. Assuming the Chicago setlist didn't vary from the DC/NYC setlists, it's most likely that the foreign language version was in fact "Taschenrechner"
Curtain falls.....

Third Set (The Robots):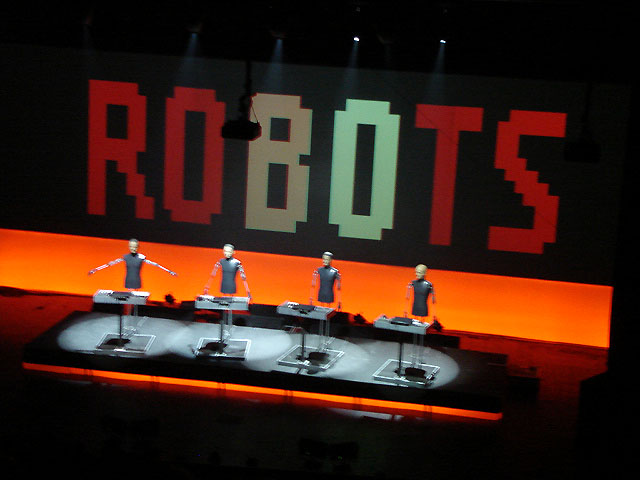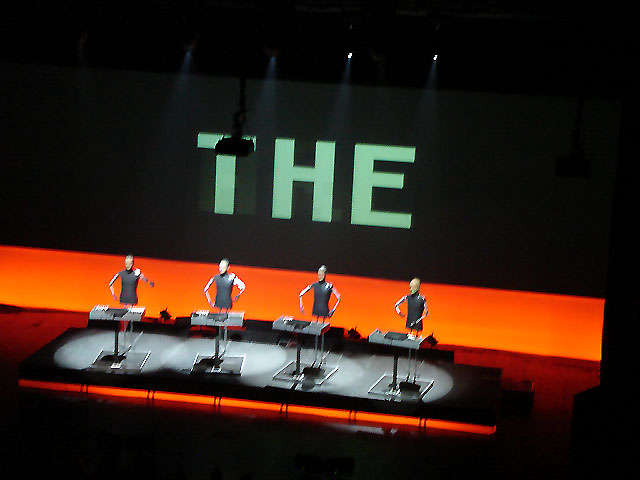 We hear the opening bars of "We Are The Robots", as the curtain is backlit (in brilliant white light), casting silhouettes of three of the robots onto the curtain (alas, the photo I tried to get of that didn't work out). I was worried that one of the robots had broken, but when the curtain rose I was relieved to see that we were just sitting at a less-than-optimum angle; when the curtain rose we saw all four robots, as they finished up a rousing rendition of "We Are The Robots" that absolutely wowed the crowd. That was the only song of that set. Curtain falls.....

Final Set (the band wears the florescent "wire frame" suits):

Elektro Kardiogramm/Tour de France Soundtracks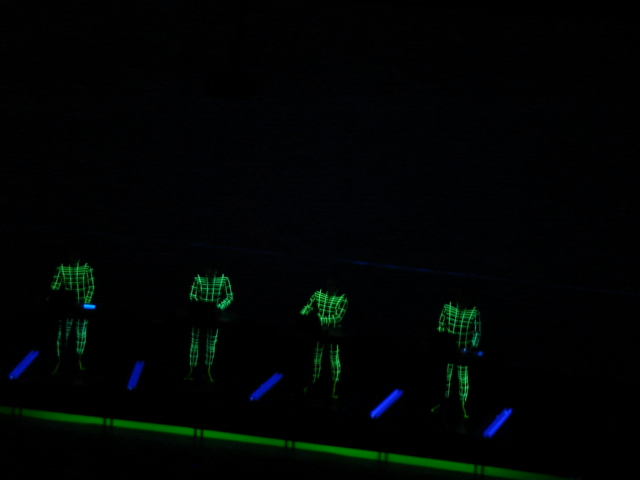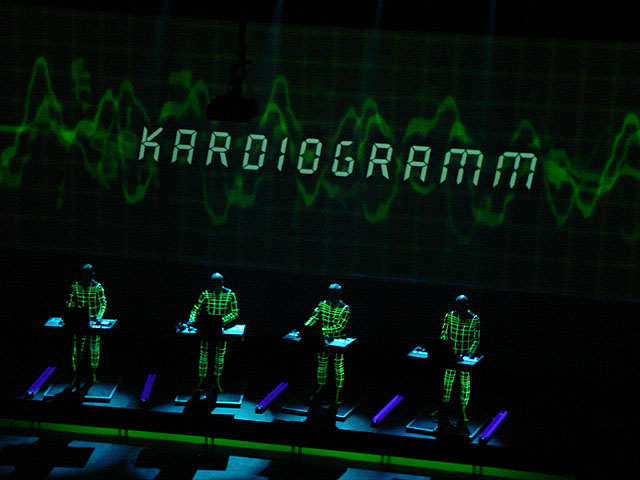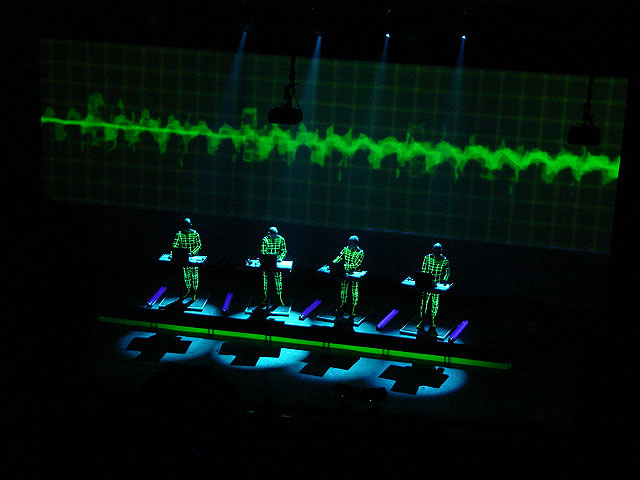 Maybe my taste is poor. It seems that a lot of comments on the ANTENNA mail list deprecated this one. I liked it just fine...There's something about that relentless, driving cardiac beat that just grabs me in the gut...
Aéro Dynamik/Tour de France Soundtracks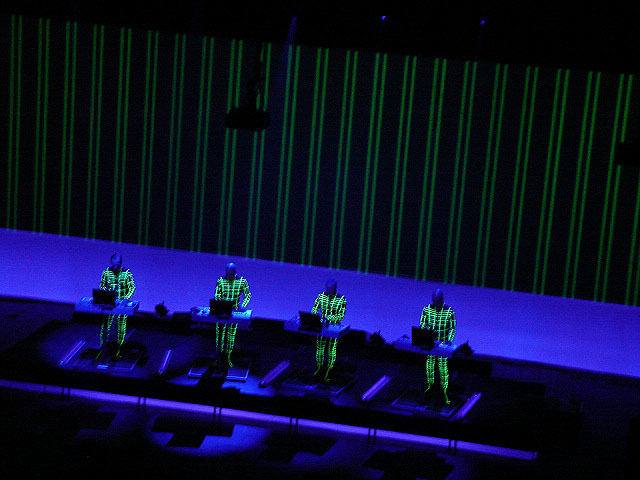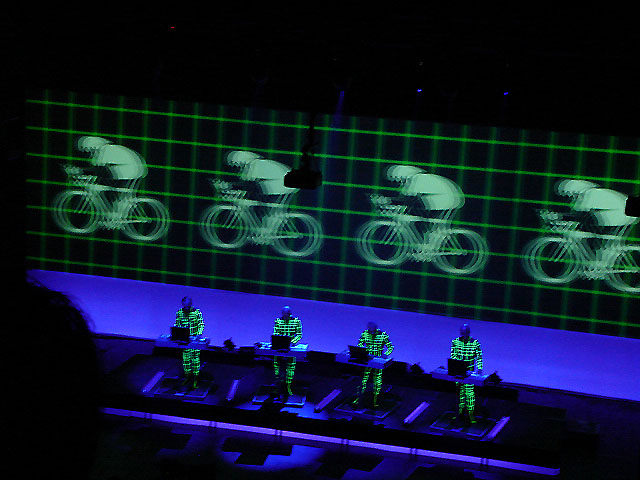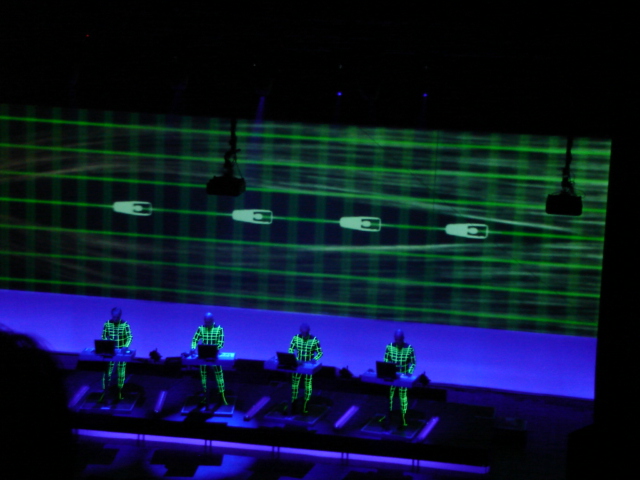 Boing Boom Tschak and Music Non Stop/Electric Cafe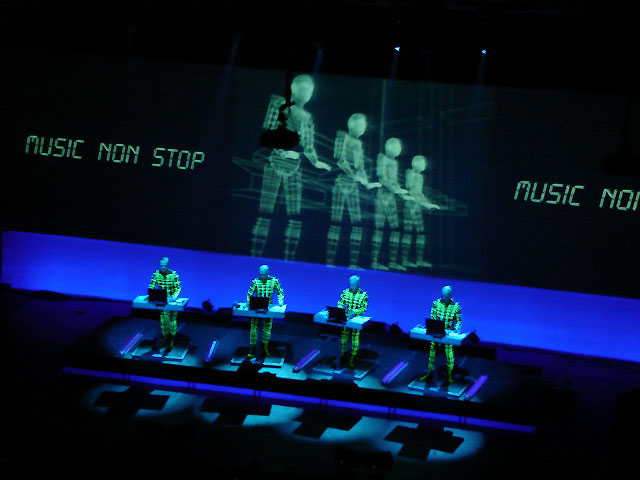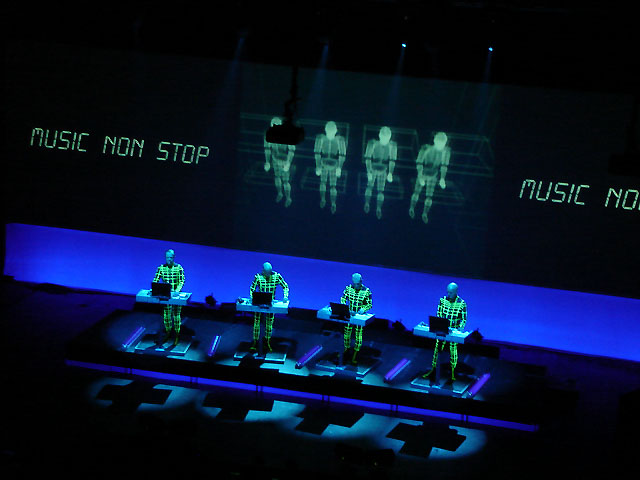 Great computer animations (many of the CGI head of Florian created for the video). As a touch, each member (starting with Florian Schneider (I think) on the far right) walked away from his console to stage right, bowed to the audience, and then exited the stage, ending with Ralf walking off alone while the ending bars of "Music Non Stop" played on... A distinct touch, in my opinion.




Len on 06.07.05 @ 10:20 PM CST





[