[« The Law Steps In...] [And speaking of working hard… »]
06/16/2005: Those Un-Dead (Bad) Ideas...
Now, just to make sure we residents of Dennis Hastert Corner haven't forgotten what a great, hard working guy is our Home-Boy, Dennis Hastert – he sends out these glossy 8x10 photo-op updates [at our taxpayer expense of course] to promote the GOP agenda disfavored by 58% of Americans.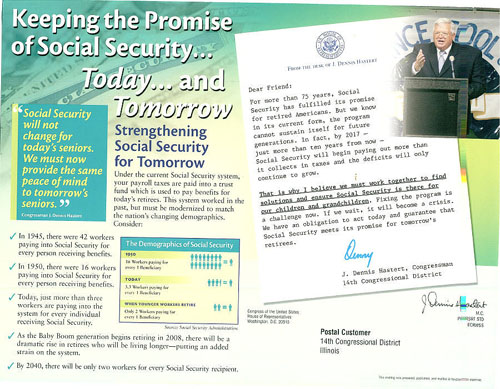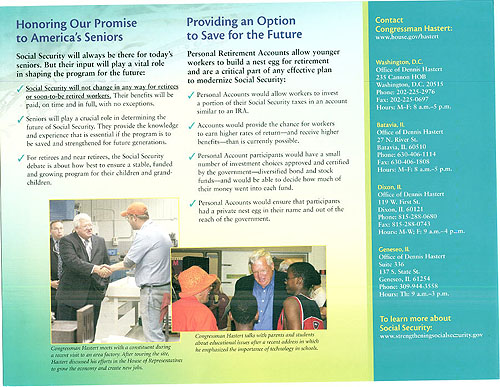 Or as one recent commentator noted at another site:

"Since George Bush is Brain-Dead already, his ideas are "Un-dead" and can never really be destroyed. They just keep coming back like evil un-dead zombies or vampires."

And so it seems with this notion to create a partial Privatization of Social Security via the implementation of "Personal Accounts." -- No matter how the numbers don't add up. No matter how these are NOT "private nest eggs in your name – out of reach of the government." No matter how this would, of necessity cut back on the current benefits paid out to retirees and soon-to-be retirees. – The GOP, and Home-Boy, Denny, just keep trotting out these damnable lies and distortions trying to push an agenda 58% (or more) of Americans are opposed to.

Yep, they're working hard – but hardly for us!!!



Karen on 06.16.05 @ 03:46 AM CST





[