[« Interesting historical ironies department:] [It's official: there's a blog for everything now.... »]
04/15/2005: A Night At Cuneen's...
Cuneen's is about as "Neighborhood"a bar as you get in Chicago. It may be called an Irish Pub by the "listing of Irish Pubs" by the website "IrishAbroad" - but it's the kind of place where you WILL be politely asked to "shift over" to another table when the "regulars" come in their "usual night" and "usual spot" to gather. (As we "shifted" a few folks to get a table large enough to accomodate the P.R. Gang and the additional Friends-Not-From-Park-Ridge that make up the Thursday night regular evening gatherings at Cuneen's.)

The front window spots (with plants and tables) were always "coveted" seating with a good view of the comings-and-goings along Devon Avenue.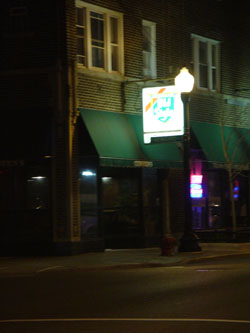 Cuneen's, 1438 W. Devon, Chicago



Here is inside the place showing appropriate "neighborhood decor." (Although the Wooden Indian - at the far right - has migrated around over the years to various spots and even occasionally outside to greet patrons.) Inside Cuneen's:



Two pictures of a few - but by no means ALL - of the Park Ridge Gang: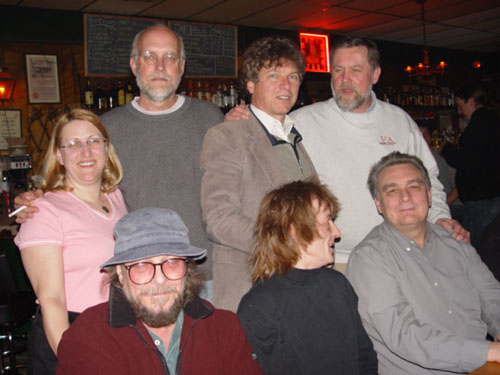 Top row: Me, Bob Nelson, Erik Graff, Walter Wallace
Seated: Bill Causer, Hank Kupjack, Tom Kosinski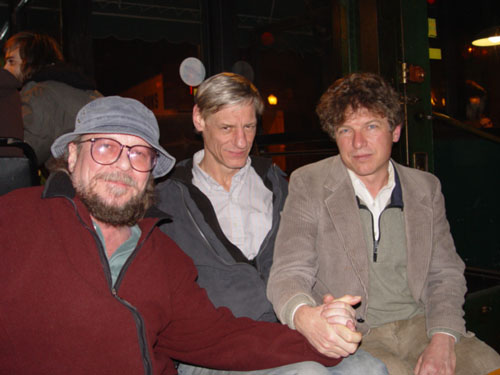 Bill Causer, Jim Irwin, Erik Graff



It was a trip down memory lane to the neighborhood bar of smoky confines and contemporary music. The scene of so many raucous nights and intellectual diversities over glasses of wine and pints 'o' beer.

I really don't qualify as a "regular" myself anymore because I rarely make the "hike" in for the Thursday's group. (And a "hike' it is at approx. an hour and thirty minute drive for the 50-60 miles into the City of Chicago proper from the Windy Outback where I live at Dennis Hastert Corner.) But it was worth it to visit and see so many of my dear old friends for another Night At Cuneen's.



Karen on 04.15.05 @ 06:54 AM CST





[