[« From the Karen Files: Books I've Written...But Never Published] [Tweedle Bugs »]
02/06/2005: Idiot's Guide to What?
I was in a local Border's on Saturday, spending a $30 giftcard I received for Christmas. I was in the religion section, looking for a copy of Who Wrote the Bible?, and I did a double take when I saw this sitting on the bookshelf.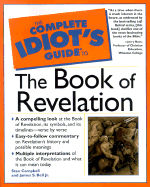 Frankly, I think there are enough idiots studying the Book of Revelation already.

For the curious, in addition to Who Wrote the Bible?, I purchased a copy of Tooth and Claw (thanks to Brad DeLong for the recommendation) and The Girl Who Played Go.



Brock on 02.06.05 @ 05:43 PM CST





[