[« Thought for the Day:] [E-annoyances... »]
01/10/2006: Five VERY Weird things about me and ME...
Brock has tagged me with this meme: "Five Weird Things about Me." My Problem is not in making the list, but limiting it to ONLY five things. Hahahahha.

1) First on the TOP of my list would be my "Selachophobia." (Known already to some of our regular readership.) I have *theories* about when it came from; have tried various ways to de-condition it; and I "read" lots of information about sharks; and even can glance at them sometimes - under some circumstances - tho' not the Full-Mouth shots. But I've been known to fling magazines across the room to get me away from pictures of them. I have terrible nightmares after seeing them (and other than my *waitressing* nightmares – these are the worst.) Never swim at night in dark water (even in a swimming pool) and avoid all the famous movies with sharks as the main feature.

2) Second Top category *weirdness* is that I have these "bins" (actually glasses) of toothbrushes for our use. This started when the kids were small and getting repeated colds and flu that traveled from family member to family member - we just couldn't shake them off.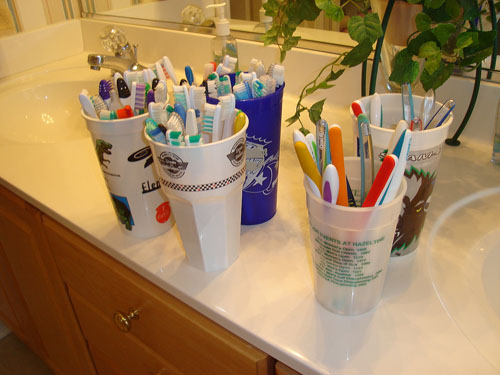 [Usually kept under the cabinet...not on it.]

So, you use a toothbrush ONE time, then stick it (brush-side down) into a *used bin* -- Next time ya grab a clean toothbrush (sitting brush-side UP in a glass) from the *clean bin.* So, each time you brush it's with a disinfected and clean brush (not putting them same old cold germs back into your mouth.) The dirty brushes are cleaned in a mixture of a splash of bleach and water for five minutes, then thoroughly rinsed off and put Brush side UP in the *clean bin.* WEIRD, I know, but it does have a couple advantages – we have less colds and they seem to go away sooner, plus my brushes last longer and it avoids them snarly, worn out brushes (I throw anything old away) and feels so much CLEANER. But the look on the faces of visitors is priceless – the "what are you doing with 50 toothbrushes" look. ;-D


3) Third most strange thing about me is (like Angelica at Battlepanda ) is that I like to make things. My husband likes to call me "the Power-Tool Wife." I also do multiple crafts like: jewelry making, metal work and welding & plasma cutting, stained glass, pottery, macramé, candle making, gardening, carpentry, sewing, cooking, baking. All fit under the rubric of my *creativity* and my need to have an outlet for that. And I'd rather make something myself than buy it from a store whenever possible. I also used to fix my own car - in pre-computerized cars days - and have changed spark plugs, changed oil, rebuilt carburetors, replaced ball joints and tie-rods, done body work.

4) Fourth weird thing is that I also like computer games and X-Box games. I am the only MOM in the neighborhood who plays Halo™ with my kids. One of my all time FAV games is Lode-Runner™ (they have a 3-D Nintendo 64 version that is great) and this 2-D version where you could build your own puzzles. It was a FUN game and we recently rediscovered this program (from replacing the power supply on that old Mac Performa computer.) The kids had a howl finding the ones where we built in their names into the puzzle.

5) Fifth weird thing about me - to my kids anyway - is my *kid language* (but being a Mom, that is actually not so weird) but it is simply HARD to get rid of speaking that way even though they are growing up. Their FAV Funnie is when I call them all "Little Pills" for being obnoxious. (As in being "Bitter Pills to Swallow".) And frightening to realize I sound like my own Mother. Hahhahaha! Plus, they think that is like SOOoooo WEIRD that I Blog here with Len and Brock. And they don't know any other Moms who Blog. They just don't realize How KOOL and Current their MOM is!!

:-)

Update Note: I *forgot* to add who I'd like to Tag: Dr. Abby, Bryan, Jon Rowe and the Crew at Pesky's Flypaper Theory.



Karen on 01.10.06 @ 07:54 AM CST





[