[« New blogroll addition....] [Winter Soups... »]
11/26/2005: I Just LOOOOVE Science...
...so Follow this most Scientific Study from The Poor Man Institute of the Wingnut-Wankery Scale: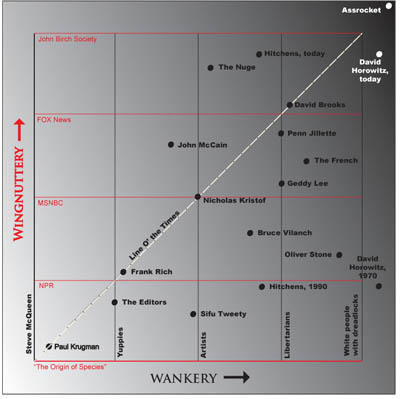 "...All thanks to SCIENCE!

Using these same powerful analytic tools, we can begin our investigation. First, we abstract the the concepts of "wankery" and "wingnuttery", and represent them as the perpendicular x and y axes of a graph, respectively. We define our zero of wingnuttery as Charles Darwin's classic "The Origin of Species", and our zero of wankery as Steve McQueen, the only man to live through the 1960's without ever having a stupid haircut.

Moving upwards from our axis of wingnuttery we pass through lines of increasing wingnuttiness, while moving to the right from our zero-wankery line implies ever higher degrees of wankitude, until, after many, many sheets of graph paper, we find ourselves at the Burning Man festival. With this as our guide, we can objectively plot the wingnut and wanker ratings of any individual, and determine what relationship exists between these two seemingly unrelated characteristics.

Firstly, we note that Paul Krugman, Frank Rich, Nicholas Kristof and David Brooks all lie on a single line which exactly bisects our graph. This is no coincidence: this line of equal wankery and wingnuttery is used by the NY Times to determine who gets a regular spot the editorial page. (Note that by projecting this "Line O' The Times" out, we discover that Assrocket will soon have a regular gig at the Grey Lady.) We also observe that people may evolve over time along lines of constant wankery, although only in the direction of increasing wingnuttery, which, ilke entropy, can only be created, never destroyed.

Finally, we note that the quadrant of high wingnuttery and low wanking is completely empty. You can have wanking without the wingnuttery, but not wingnuttery without wanking..."


:-) I just love SCIENCE. *tee* and *hee*



Karen on 11.26.05 @ 02:27 PM CST





[