[« Karen will probably go into mourning....] [Today's GEM... »]
11/23/2005: Staying the Course on Becoming 'The Worst President EVAHHH..."
Thomas Friedman (NY Times) has a ditty about the potential for Child-In-Chief to turn around the Country and salvage his presidency all in glorious realignment of admitting mistakes and moving towards a centrist postion to correct the errors of his ways. Thus, Friedman reasons, CIC can avoid becoming...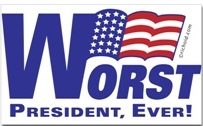 Friedman writes:


"...When I watch Mr. Bush these days, though, he looks to me like a man who wishes that we had a 28th amendment to the Constitution - called "Can I Go Now?" He looks like someone who would prefer to pack up and go back to his Texas ranch. It's not just that he doesn't seem to be having any fun. It's that he seems to be totally out of ideas relevant to the nation's future.

Since there is no such clause, Mr. Bush has two choices. One is to continue governing as though he's still running against John McCain in South Carolina. That means pushing a hard-right strategy based on dividing the country to get the 50.1 percent he needs to push through more tax cuts, while ignoring our real problems: the deficit, health care, energy, climate change and Iraq. More slash-and-burn politics like that will be a disaster.

Indeed, at a time when a decent outcome in Iraq is still possible and we are at the most important political moment in Baghdad - the first national election based on an Iraqi-written constitution - it was appalling to watch Mr. Bush and Dick Cheney using their bully pulpits to act like two Rove attack dogs, accusing Democrats of being less than patriotic on Iraq.

For two men who have fought this war without deploying enough troops, always putting politics before policy, without any plans for the morning after and never punishing any member of their team for rank incompetence to then accuse others of lacking seriousness on Iraq is disgusting. Yes, we need to stay the course for now in Iraq, but we can't stay the course alone or divided. That's the point.

We are about to produce the most legitimate government ever in the Arab world, and the Bush-Cheney team - instead of acknowledging its errors on W.M.D., seeking forgiveness and urging the country to unite behind the important effort to defeat the jihadist madness in Iraq - does what? It starts slinging mud at Democrats on Iraq. Sure, some Democrats goaded them with reckless remarks - but they are not in power. Where are the adults? We can't afford this nonsense, while also ignoring our energy crisis, the deficit, health care, climate change and Social Security.
...
"If President Bush doesn't rise to this challenge, our children and grandchildren will look at the burden he has placed on their shoulders and see this moment as the hinge between the American Century and the Chinese Century. George W. Bush may well be seen as the president who, by refusing to address these urgent questions when they needed to be addressed, invited America's decline."

Truly, I hope Mr. Bush rises to the challenge. We do not have three years to waste. To do that, though, Mr. Bush would need to become a very different third-term president, with a much more centrist agenda and style. If he does, he still has time to be a bridge to the future. If he doesn't, the resources he will have squandered and the size of the problems he will have ignored will put him in the running for one of our worst presidents ever."


Hahahahahhahahaha!!!

Dream ON, Thomas.

Not only can this President not let go of his soiled-stinks-to-high-heaven security-Rove Blankee, but he's done all in his power to keep Blooming-Shit-head by his side and return to the Dirty-Dawg-Rovian-Play Book of political campaign maneuvers. Just cause this particular smear didn't work, don't think for a minute that Rove's list of smears, fear, divide and conquer GOP rote approach to governing is now on the short list of strategies for repairing CIC's poll ratings.

If Child-In-Chief has shown nothing else for the past 5 years - it's that he both a "SLOW LEARNER" (if in fact he ever *learns* anything at all from those *mistakes* he never makes or admits to making) and has no penchant for self-correction. He offers nothing but lame excuses, no plans for change and it may be too LATE to rescue his *Legacy* beyond the "Worst President Ever."



Karen on 11.23.05 @ 06:01 AM CST





[