[« Aways a 'Barney Fife' around when ya DON'T Need one...] [Karen will probably go into mourning.... »]
11/22/2005: In case you were Wondering....
I have been Soooo Bizee. Hardly any time to post.

I've had family things, work things, appliance things, contract things, health things, multitude of EVERYTHING - all GO Crazeee the past few weeks.

They usually say "bad things come in threes" - BUT Sheesh, I'm working on making it an even DOZEN by now.

And yet one more thing this morning -- the furnace humidifier deciding to go Kablooie and leak water all over my basement floor. But as we are in the HVAC biz... I am hoping for a quick replacement unit sometime SOON. (Are ya listening, Honey!!!)

;-)

But meanwhile, after mopping the basement floor, and running some box fans to dry the moisture and avoid mold and mildew - I've been on a time-is-of-the-essence mission to find dining room chair seat covers.

My dining room chairs have suffered every indignity known to man over the past 17 years of holiday seasons and entertaining guests. But the Pizza escapade, where Cory accidentally lost control of a full steaming hot Pizza Box and dumped and entire Cheese, Sausage, Mushroom and Green Pepper Giordano's Thin crust Pizza *FACE-Down* on a dining room chair has caused me to want to completely recover them. (She was, to be fair, aiming for the table - but missed. *teehee* and *YUK*)


This is the Pizza Chair cushion (never to be the same again) :-0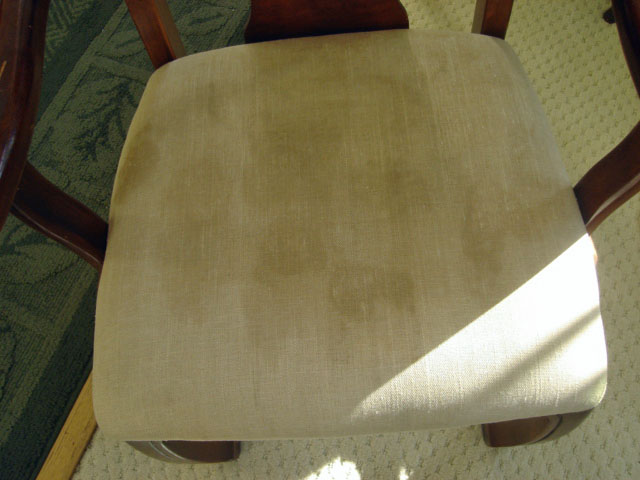 But DRAT, time is short and 15 guests are coming on Thursday.

So, instead I am making some brocade chair covers to tie on and cover the offending cushions. Ya would think these would be an ready item to be purchased - somewhere - in some store. BUT NO!!

Stores only carry the usual fluffy seat cushions ready-made (and too small for my chairs), or some Blanket type things to swath your entire chair in yards of fabric and bows. Not the *look* I was searching for.

But a few yards of brocade and matching ribbon later - and I can make my chairs look all inviting again for the Holidays.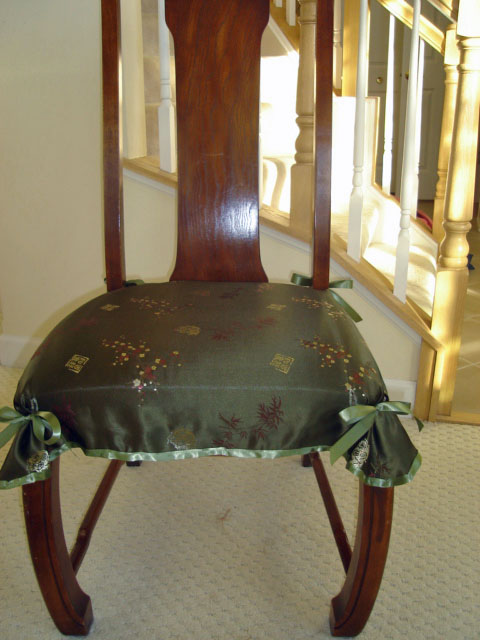 Voila! - Suzy-Homemakerô strikes again!!



:-)



Karen on 11.22.05 @ 03:05 PM CST





[