[« Life as Yoda...] [What a Way to Go – Fosssified F**cks »]
11/03/2005: Only a matter of time, I suppose....
Granting, the Christian triumphalists would probably like to see the USPS issue a stamp like this, they haven't gotten it yet. I wonder what was going through the Royal Mail's mind when they ok'ed this distinctly weird holiday stamp issue: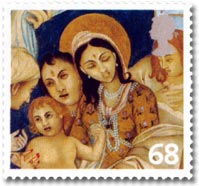 LONDON, Nov 1: A Royal Mail 68p Christmas stamp featuring a man and woman with Hindu markings worshipping the Infant Christ has created a controversy in the United Kingdom.

Hindus are demanding that the Royal Mail withdraw the Christmas stamp, claiming the mother and child image it represents insult their religion, The Telegraph reported.


The image is one of a series of six mother and child stamps that go on sale on November 1.

Ramesh Kallidai, secretary general of the Hindu Forum of Britain, told The Telegraph the image was insensitive, as it showed people who were clearly Hindu worshipping Christ.

"It is the equivalent of having a vicar in a dog collar bowing down to Lord Ram on a Diwali stamp," he said. "These things need to be done with sensitivity."

The stamps were drawn from religious images around the world. The Hindu stamp was taken from a picture that hangs in Mumbai and was painted in the 17th century, the British newspaper reported.

It is an Indianised version of a European print of The Holy family with St Anne and the two angels, according to the city art gallery. It has a European theme but a Mughal setting.

The picture was chosen for Royal Mail by this year's stamp designer, Irene Von Treskow, an Anglican priest in an English-speaking church in Berlin.

She said she was fascinated by the image as it was so interesting to see a Mughal painting with a Christian subject.
Thanks to autoegocrat for the pointer.



Len on 11.03.05 @ 07:32 AM CST





[