[« About that NOLA Flooding...] [For some folks... »]
10/24/2005: About those 'bAdministration' Successes...
In addition to this one about the Illinois lawsuit against "No Child Left Behind" act , a while back I issued a "challenge" of sorts for anyone defending this bAdministration to list five *successes* -Except "No Child Left Behind" was disqualified.

I promised a Whack upside their head for anyone showing temerity enough to put that boondoggle forward as a *success.*

So here is the National Report Card on the flat performances of testing results since the policy's implementation:

"Reading scores among fourth- and eighth-graders showed little improvement over the past two years, and math gains were slower than in previous years, according to a study released yesterday. The disappointing results came despite a new educational testing law championed by the Bush administration as a way to improve the nation's schools.

Most troubling for educators are the sluggish reading skills among middle-school students, which have remained virtually unchanged for 15 years...

[snip]

...No one can be satisfied with these results," said Ross Wiener, policy director for the Education Trust, an advocacy organization that backed No Child. "There's been a discernible slowdown in progress since '03, at a time when we desperately need to accelerate gains. The absence of particularly bad news isn't the same as good news."

[snip]

Some scholars cautioned against tying the scores directly to No Child this early. "Let's put it this way," said Tom Loveless, a senior fellow at the Brookings Institution, "reading scores were flat and math scores on the rise before No Child Left Behind, and reading scores are flat and math scores are still up after No Child Left Behind. It's impossible to know whether NCLB had an impact -- either positively or negatively..."


Here is the graph of results: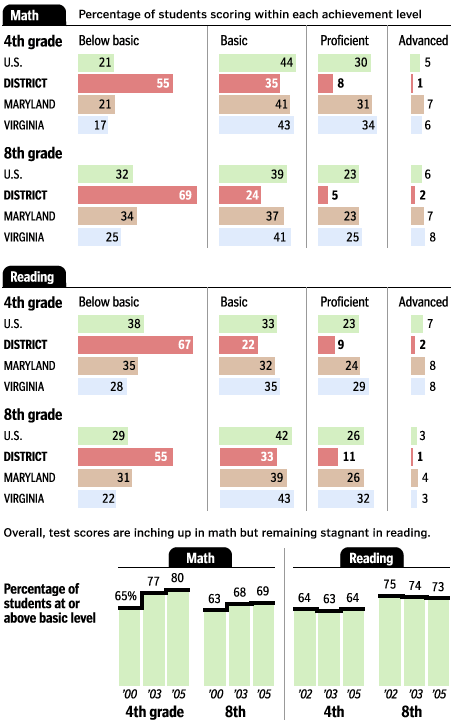 Hardly a stunning *Success* or any success at all. So, anyone out there got any *successful bAdmin policies* they'd like to list? Hahahahaha!

[Just remember the rules: To be a policy success - they have to have measured goals, fit within the purpose and design of the policy, and fit within the costs as laid out at their inception.]



Karen on 10.24.05 @ 10:38 AM CST





[