[« Firsts in American Legal History] [I can't resist.... »]
09/07/2005: Our pals at The Onion.....
have outdone themselves this week....Among the gems:
Officials Uncertain Whether To Save Or Shoot Victims
Nation's Politicians Applaud Great Job They're Doing
Area Man Drives Food There His Goddamned Self
Bush: 'It Has Been Brought To My Attention That There Was Recently A Bad Storm'

...

Refugees Moved From Sewage-Contaminated Superdome To Hellhole Of Houston

HOUSTON—Evacuees from the overheated, filth-encrusted wreckage of the New Orleans Superdome were bussed to the humid, 110-degree August heat and polluted air of Houston last week, in a move that many are resisting. "Please, God, not Houston. Anyplace but Houston," said one woman, taking shelter under an overpass. "The food there is awful, and the weather is miserable. And the traffic—it's like some engineer was making a sick joke." Authorities apologized for transporting survivors to a city "barely better in any respect," but said the blistering-hot, oil-soaked Texas city was in fact slightly better, and that casualties due to gunfire would be no worse.

White Foragers Report Threat Of Black Looters

NEW ORLEANS—Throughout the Gulf Coast, Caucasian suburbanites attempting to gather food and drink in the shattered wreckage of shopping districts have reported seeing African­Americans "looting snacks and beer from damaged businesses." "I was in the abandoned Wal-Mart gathering an air mattress so I could float out the potato chips, beef jerky, and Budweiser I'd managed to find," said white survivor Lars Wrightson, who had carefully selected foodstuffs whose salt and alcohol content provide protection against contamination. "Then I look up, and I see a whole family of [African-Americans] going straight for the booze. Hell, you could see they had already looted a fortune in diapers." Radio stations still in operation are advising store owners and white people in the affected areas to locate firearms in sporting-goods stores in order to protect themselves against marauding blacks looting gun shops.
...

Bush Urges Victims To Gnaw On Bootstraps For Sustenance

WASHINGTON, DC—In an emergency White House address Sunday, President Bush urged all people dying from several days without food and water in New Orleans to "tap into the American entrepreneurial spirit" and gnaw on their own bootstraps for sustenance. "Government handouts are not the answer," Bush said. "I believe in smaller government, which is why I have drastically cut welfare and levee upkeep. I encourage you poor folks to fill yourself up on your own bootstraps. Buckle down, and tear at them like a starving animal." Responding to reports that many Katrina survivors have lost everything in the disaster, Bush said, "Only when you work hard and chew desperately on your own footwear can you live the American dream."
And the caption was priceless: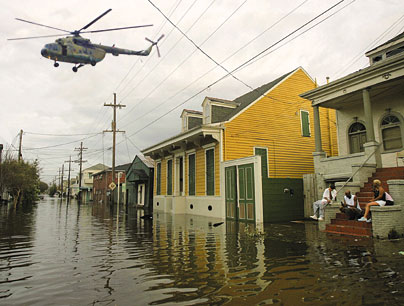 FEMA representatives call out to survivors, "Show us your tits for emergency rations!"





Len on 09.07.05 @ 07:52 PM CST





[