[« Bush knew....] [Firsts in American Legal History »]
09/07/2005: Ok, it's a start....
I will resist the temptation to take a snark shot at the bAdministration. This might actually be helpful, at least in the short term: U.S. Offers Katrina Survivors $2,000 Each
Dispossessed victims of Hurricane Katrina will receive debit cards good for $2,000 to spend on clothing and other immediate needs, the Bush administration announced Wednesday, working to recast a relief effort drawing scant praise from Republicans and scathing criticism from top congressional Democrats.
Now, if the bAdministration will push Congress to at least delay implementation of the bankruptcy "reform" legislation (I'd prefer outright repeal, but I no longer believe in Santa Claus or the Easter Bunny) long enough to let Katrina survivors file for debt relief, if necessary, under the provisions of the old law, I might actually have to give them some real credit. Let's see if they surprise me.

However, I am not going to resist the temptation to take a cheap shot at Yahoo!. I was clued in to the above cited story when I opened up my Yahoo! Mail account (actually, I keep a couple, for subscribing to mailing lists that I'm not active on, and as "spam catchers"), and saw this in the "news blurbs" section of the main Yahoo! Mail screen (unaltered screen capture):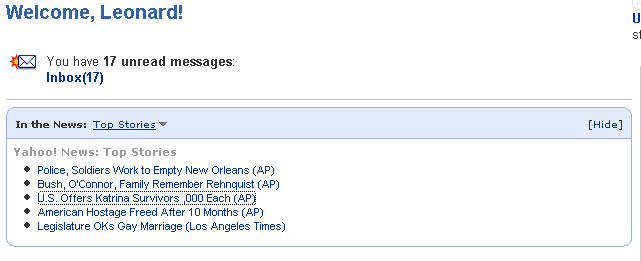 My first reaction to "U.S. Offers Katrina Survivors 000 Each" (which is how I first read it) varied between sheer astonishment and a sense of "Somehow, that seems typical of the bAdministration". Then I saw the "," before "000", and realized (correctly) that it was a typo. And after that, I got a small chuckle.



Len on 09.07.05 @ 06:27 PM CST





[