[« Clime and Punishment] [Archbishop Raymond Burke: Thief and Asshole.... »]
02/08/2005: Much Too Easily Amused....
Or The Chair That Got Away: Today I bought myself (emphasis on myself here) a new office chair. Not that I don't have some perfectly good, useful, match my decor, snazzy office chairs already...but...

Those chairs have arms...and I can't quite snuggle up to my work spot in the way I really need to (for my back...and all this blogging...it's muuurder.) So, the chair search began ...

Finally, I found this most perfect drafting chair; no arms, low back, foot rest, cushy cushions...Ahhh...the perfect chair. But now I think I've lost it...before I ever got started...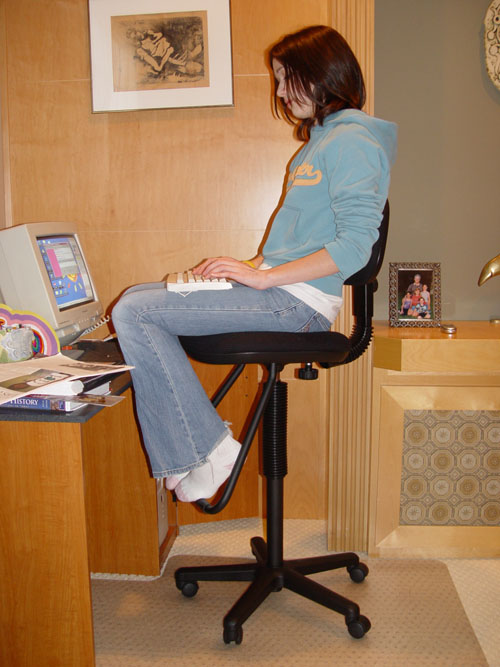 Lindsey has co-opted my chair...and is clearly much too easily amused by it's other feature...the possibility of gaining excessive height at the touch of a button.



"This is sooooo NEAT," she screamed.



What's a mother to do under these circumstances??? Maybe I ought to offer to arm wrestle her for the chair. (Think I'd win??)



Karen on 02.08.05 @ 04:28 PM CST





[