[« Post Groundhog Day recap....] [Sick pun o'the day.... »]
02/03/2005: Journalists On "The Take"....
Here is Proof (see my comment to Len's update about Groundhog Day) that if Maddy or Cloud "claim" to have seen their shadow yesterday here in Chicago...well, I'm mighty suspicous that they've been co-opted by and are being paid by the government for this totally biased and bogus weather prediction!

As you can plainly see from this photo...I was hosting the February meeting of The Morning Dove Convention on my back deck. A closer inspection reveals just how cloudy and overcast it was around here...at precisely the timing of Maddy and Cloud's fictitous prediction about "six-more weeks of winter."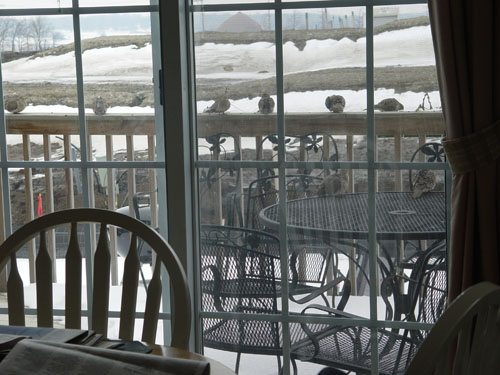 All I can say, for sure, is that if the government is buying off our wildlife to provide biased weather reporting...no one is immune from this dispicable trend. This must end...and we must end it NOW.

Check on the "more" button below to read further on this topic:

Everyone KNOWS Smokey the Bear was a paid "mouth piece" for those despicable "Only YOU Can Prevent Forest Fires" campaigns during the 60's and 70's...now defunct as bad policy. Experts contend that those propaganda messages were partially responsible for the deteriorated forest conditions (cleaned by periodic and necessary forest fires) and the tinder-box conditions that resulted in millions of overly-susceptible-to-raging-out-of-control-forest-fires acreages of trees and grasslands. Plus, as with prairie grasses, forest fires are a natural occurence to kill off non-indigenous species of weed and plants, allow for the reseeding and re-growth of healthy forests and prairies. So, just as we stopped Smokey from his worthless propaganda campaign...it's time to get these creatures OFF the government payrolls and back "on message" with unbiased, "get it right" reporting.

Karen on 02.03.05 @ 08:32 AM CST