[« Thought for the Day:] [Gem o'the Day: »]
01/05/2005: RIP, Kelly Freas, 1922-2005.
Bryan over at Why Now? mentioned Monday that artist Kelly Freas died Sunday in Los Angeles at the age of 82. His widow stated that the cause of death was old age. Freas was best known as an artist for Mad magazine, and he spent seven years as the main cover artist for Mad, which probably made him one of the major influences on the popular image of Mad cover boy Alfred E. Newman. But Freas did a lot of other work, especially in the area of science fiction and fantasy illustration. According to his widow's statement:
"He always wanted to be a science fiction illustrator, and the life of a science fiction illustrator led him to so much more," she told The Associated Press on Monday. "Life with a Mad artist was never boring."
Freas's work for Mad provided me with some of the best memories of my life, including one work he did which is one of the funniest things I've ever seen in my life.

I grew up in the '60s, the grandson of a pharmacist in St. Louis, MO. Back in the late 1950s to mid-1960s Parke-Davis, the pharmaceutical house, commissioned a series of schmaltzy paintings featuring topics in the history of medicine and pharmacy, distributed prints to pharmacists for display in their drug stores, and used them as the basis of a number of advertisements in the medical and popular press. My grandfather had a set of these prints in his store (and around his house, too), and I grew up intimately familiar with these paintings. For that reason, perhaps, I found this Mad parody to be exceptionally funny, in large part because it perfectly captured, yet punctured, the worshipful tone of the original Parke-Davis ads: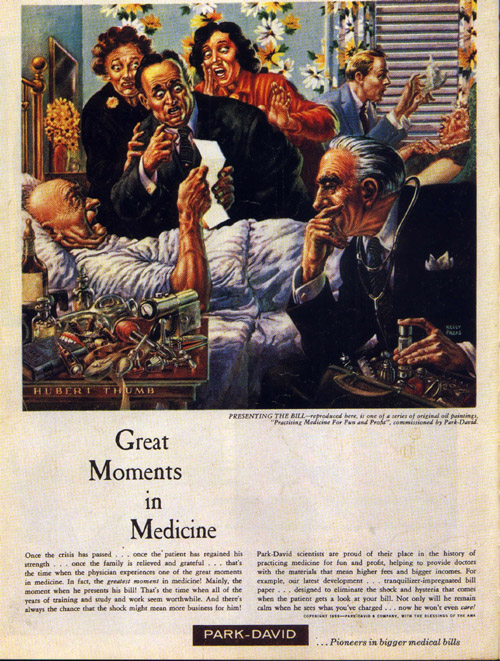 (Click on the picture to see the full sized image.)



Len on 01.05.05 @ 07:14 AM CST





[