[« Unit Watch: Day Interminable And Then Some] [Christmas Nostalgia Corner »]
12/19/2004: Great College Pranks Department....
Well, it's been done before, but not recently (at least not that I've heard of). We'll let Pete tell the tale:
I heard about this prank a couple weeks ago, but hadn't seen any pictures until today. It seems a group of Yale students dressed up as members of Harvard's pep squad and passed out crimson and white construction paper to the home crowd at Harvard Stadium prior to the annual Harvard-Yale game. They informed the crowd that, when they raised their construction paper in unison, they'd be spelling out "Go Harvard" for all the world to see. Hard as it may be to believe, the Yalies weren't being entirely honest....
And you had to see this coming if you have at least two functioning neurons to rub together: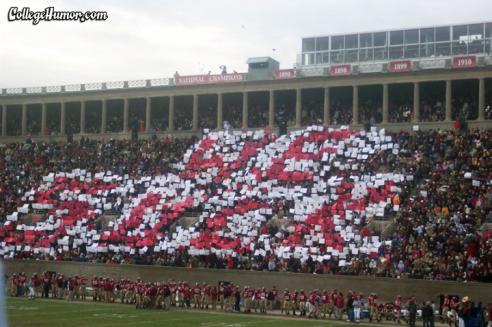 Len on 12.19.04 @ 01:30 PM CST





[